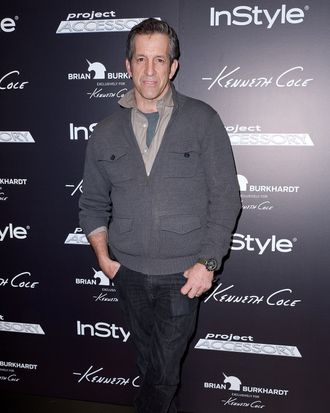 Kenneth Cole.
Photo: D Dipasupil/2012 D Dipasupil
Kenneth Cole the person — who's arguably more famous for the puns on his billboard ads than his actual clothing at this point — wants to buy back his eponymous company in its entirety. (All this news about labels and their namesake designers really makes for confusing headlines, doesn't it?) Anyway, Cole currently owns about 47 percent of the company's shares, and controls 89 percent of the voting power on the firm's board. Yesterday afternoon, he made an offer to the firm's board to buy the remaining stake at $15 per share (the stock closed at $13.07 last night).
Cole says he wants complete control over the company so that he can take more chances with its creative direction, which will involve some financial risks that he's willing to take but others might not be. This sounds intriguing, actually —  the brand's merchandise hasn't exactly been flying off the racks in recent years, and seems overdue for some freshening up. In Cole's offer letter, he wrote:
I believe it is now more important than ever to embrace a more entrepreneurial perspective where we are all incentivized to grow and develop our company's products, brand and business with a longer term perspective.
Cole also says he won't make major changes to his management staff if his takeover goes through; WWD reports that he'll raise the buyout funds through "committed third-party financing sources."