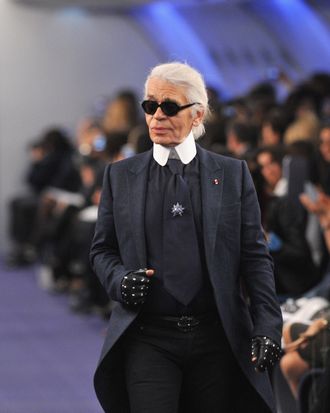 Oh, Karl.
Photo: Pascal Le Segretain/Getty Images
Karl Lagerfeld responded to widespread criticism over his comments that Adele "is a little too fat," only he didn't really clarify anything at all. He tells Metro World News:
I'd like to say to Adele that I am your biggest admirer. Sometimes when you take a sentence out of the article it changes the meaning of the thought. What I said was in relation to Lana Del Rey and the sentence has since been taken out of context from how it was originally published. I actually prefer Adele, she is my favorite singer and I am a great admirer of her. I lost over 30 kilos over 10 years ago and have kept it off. I know how it feels when the press is mean to you in regards to your appearance. Adele is a beautiful girl. She is the best. And I can't wait for her next CD.
No part of his original statement made it seem like he preferred Lana Del Rey to Adele, so that's a wash. And it wasn't the press that said anything about Adele's weight, it was Lagerfeld himself. Personally, we prefer Karl when he's discussing "quickies."
Related: 
Karl Lagerfeld Addresses His Sex Life (or Lack Thereof)
Karl Lagerfeld Calls Adele Fat, Loves the Obamas, and Says Something Weird About Pregnant Women