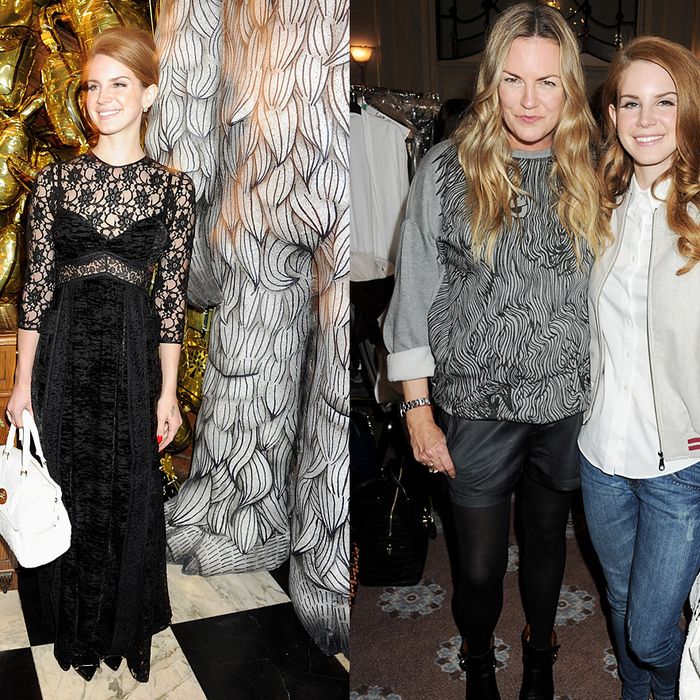 Lana Del Rey with her new bag at Mulberry's after-party (left) and backstage with Emma Hill at the fashion show.
Photo: Dave M. Benett/Getty Images
It was only a matter of time before a designer would step in and claim Lana Del Rey. After all, she's precisely the kind of celebrity that fashion loves: young, pretty, and of questionable enough talent that she might really NEED fashion to help her stay in the spotlight. So Mulberry stepped up to the plate this weekend and, with great fanfare, presented Del Rey with a white handbag named after her. Naturally, they also plopped her in the front row at their show (dandling her new bag on her lap like a proud mom with her baby) and got her to perform at their dinner party that night, which she agreed to do even though she hates singing live. According to a press release from Mulberry, Del Rey "has mastered the style of Old Hollywood, mixing it with an edginess and irreverent sense of fun." This is news to us, but she did look very pretty in her knitted black gown.
Related:
Lana Del Rey Defends Her Lips in T
Alexandra Shulman Defends Lana Del Rey's British Vogue Cover