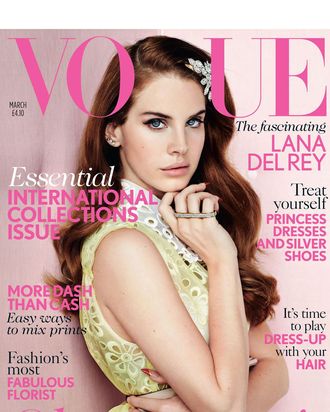 Slightly windswept curls — check. Hauntingly vacant blue eyes — check. That sultry pout — check. Why yes, it is Lana Del Rey fronting British Vogue's new March issue. As her first major fashion magazine cover (she also appears on the less major February issue of Interview Russia, which debuted a few weeks back), this is a coup for her. It's also a rather unusual choice for British Vogue, which is better known for choosing cover stars from a mix of top models and famous names who are much more established in their industries (Del Rey's debut album, Born To Die, was released in the U.K. only last week).
Those who love to hate Del Rey do so perhaps more fervently than many of her fans adore her. (Even though: How can you hate someone who comforts a crying fan so sincerely?) So the on-again, off-again backlash forever brewing around her is obviously not going to stop any time soon, especially with this new cover to fan those flames.
While many music critics don't agree with them, British Vogue's editors may like her sound and her album enough to champion her as a musician (she told the magazine she doesn't think she'll write another record because she feels "like everything I wanted to say, I've said already"). But maybe this cover is more about her style than her music, which played on loop at the Christian Dior couture show recently in Paris. Del Rey is certainly very pretty and slim, and looks very nice in expensive clothes, making her the kind of controversial pop star that edgy, high-fashion designers salivate over. Again though — and this is probably part of her maddeningly blasé charm — Del Rey seems eager to keep her look understated. "If I'm going to be on television, I guess I should wear something nice, but that's as far as it goes," she told British Vogue. Does this mean we won't get to see her at New Y0rk Fashion Week alongside all the other front-row starlets? Because we're kind of dying to.