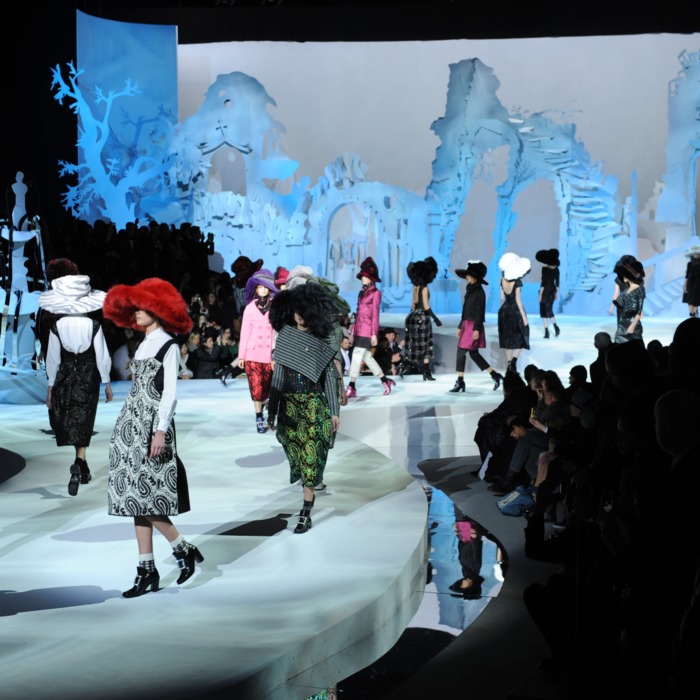 Models present outfits during the Marc Jacobs show February 13, 2012 at Mercedes Benz Fashion Week in New York. AFP PHOTO/Stan HONDA (Photo credit should read STAN HONDA/AFP/Getty Images)
The first game to play in the minutes and then hours after a Marc Jacobs show is to unpack the references. So far we've heard: Amelia Bedelia, Yohji Yamamoto, Charles Dickens, Alice in Wonderland, Dr. Seuss….  And it's not even eleven o'clock. By the morning there will, undoubtedly, be even more ideas floating around in the fash-o-sphere. Marc Jacobs is (still) the most exciting game in town. The fun starts with the set, which is bigger and bolder and more exciting than anything else we've got in New York. (As one person said upon walking into the 26th Street Armory, "it's like our own Chanel.") Tonight's set was a collaboration between Jacobs and the artist Rachel Feinstein and it was part under-the-sea, part snow-scape, yet another example of Jacobs' master ability to mix references and ideas. Sometimes—as in the case of a fuchsia knee length dress—they dazzled. Other times, they were conspicuously dull—thick knits in dour colors. The clothes were big. They were made of heavy brocades in exaggerated silhouettes. They were beautiful and a little bit strange and very much like something out of a storybook. 
You never know, walking up to the steps of the Armory, what to expect from a Marc Jacobs show—and this is true to an extreme far greater than with any other designer. The ideas and the gestures are always big, and they are always fully and successfully expressed. I will look forward to hearing more about where Marc Jacobs' head was at tonight. And in the meantime, I'm pleased to have been brought there for a few minutes at the end of a long day.