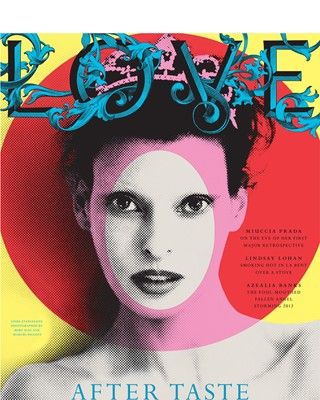 Linda Evangelista's Love cover.
In the new issue of Love, Linda Evangelista talks some more about that scandalous lawsuit she filed last year against PPR chief François-Henri Pinault, in which she alleged that Pinault never gave her any money for their 5-year-old son Augustin. She also demanded that Pinault pay $46,000 a month in child support. (Pinault, who's now married and has a 4-year-old daughter with Salma Hayek, affirmed that he is Augustin's father but denied that he never paid child support or refused to acknowledge his paternity.) Anyway! It appears that legal proceedings are ongoing, but Evangelista insists that she never wanted to drag her son into something like this. "I need to protect him," she told Love. "I never, ever used my son for publicity. He'll have his say one day if he wants it. He'll have the last word. He has time to defend himself." The latter point is certainly true, seeing as he's barely out of diapers.
On a lighter note, Katie Grand said that Linda's new Love cover — a screen print — "cost a fortune," and that getting Rachel Zoe to dress up as a vampire for the issue was really not difficult at all. "She was really game," Grand told Grazia. "Complete with fake teeth and everything. I phoned her and said, 'do you mind?' and she said, 'of course not —  but can I look beautiful?'" Which should be a standard response to all requests, really.