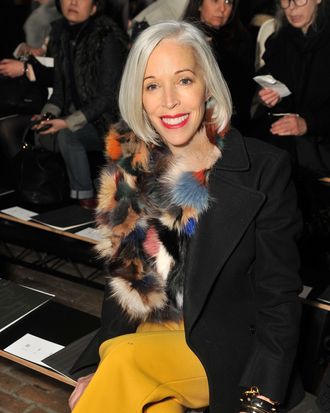 Vice President of Visual Merchandising at Bergdorf Goodman Linda Fargo attends the 3.1 Phillip Lim Fall 2012 fashion show during Mercedes-Benz Fashion Week at Highline Stages on February 13, 2012 in New York City.
Photo: Stephen Lovekin/Getty Images
Last season, the Bergdorf Goodman vice-president told The Cut about an impressive pre-Fashion Week ritual. "I go to Home Depot before Fashion Week and I get a rolling rack, because otherwise things are stuffed in your closet, and I pull out all kinds of random pieces that are talking to me," she said. "And I don't even organize them because I like the random associations. I like to take this week to push myself a bit."
We were reminded of this yesterday, waiting with Fargo for the Proenza Schouler show to start. Was there anything in particular she had challenged herself to wear this season?
"Yeah," she said. "I have these great taxicab yellow pants from The Row that I don't wear that much, obviously. Last time I wore them was with a little sharp navy cropped peacoat jacket and a crisp button-down shirt. This time I wore them with a fur that looked like spumoni. It had tons of crazy colors in it. I was like, I want to wear that, but I don't want to wear it looking – you know, a few seasons ago we were feeling really sharp, clean sportswear? Now the mood is changing. I don't like wearing the same thing twice the same way. If I am in a routine then I think in a routine."
Who made the spumoni fur? "It's nothing," she said. "It's like, Eighth Street. I've had it for years. Oh yeah, I'm a big saver. I've had it for years. My closets are out of control."