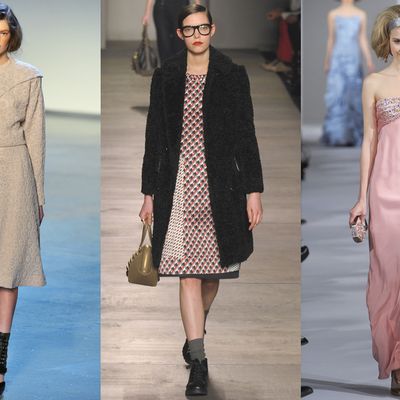 From left: looks from Rodarte, Marc by Marc Jacobs, and Oscar de la Renta
"You should have come to Dennis Basso, a girl fell twice," says a colleague, aware of my penchant for high drama — or really something, anything, to shock and surprise on a runway. Although there are smoke machines at 3.1 Phillip Lim, half obscuring the coats that are part leather, part something else (a common theme this season, and inevitably black), it hardly adds the element of excitement one has in mind — rather, you're thinking of the year that Rodarte had a fog-maker so strong it almost blinded the Bergdorf Goodman executives in the front row. Now that was fun.
There is no smoggy blanket, no smoke and mirrors, to blur the offerings at Rodarte this season — instead it is all business, which means knee-length narrow schoolmistress dresses with requisite high necks and long sleeves (signaling that we will be seeking protection from whatever may be visited upon us next fall?) Some of these frocks sport flat pilgrim collars, echoing Marc Jacobs Puritan musings of the previous night.
The wild, goofy set that Rachel Feinstein designed for that Marc show is now firewood — by Tuesday afternoon, the vast interior of the Armory contains nothing but dull rows of black bleachers for the Marc by Marc Jacobs crowd. More neo-Amish dresses are in the house, wisely shown with thick Doc Marten-esque shoes, and some of these suggestions are topped by the kind of military-police hats Jacobs seems to love. (He had then in profusion at last year's Louis Vuitton Night-Porter-influenced show.) In an attempt to convince us that the ladies and gentlemen on the runway are reading Hegel in their spare time, a few models sport heavy, black-framed nerd spectacles, which manage in this case only to enhance their youth and beauty.
Claire Danes, and maybe some other famous people, are among the attendees at Narciso Rodriguez — though, if you leave out the usual gang at DVF, this has been a fairly celebrity-deprived week (which is usually a good thing, except that when the clothes are boring, now you can't even scan the front row for vaguely familiar faces. At Rodarte, my seatmate insists that a woman across from us is Janice from Friends, but who will ever really know?) Rodriguez offers lovely sculptural coats, almost Geoffrey Beene-ish in their insistence on seaming to give structure.
The palette at Oscar de la Renta relies heavily on a sugary pink and blue, quite successful when it comes to Aspen ski-bunny ensembles, faintly cloying when trotted out ad nauseum. There's plenty of fur here, but rarely the whole coat, except for an ankle-length ersatz monkey covering a Poiret-ish gown, the single nod to flapperdom that some wags insisted (wrong! So wrong!) would be a twenties-themed season, what with Baz Luhrmann's Great Gatsby in the works and The Artist poised to sweep the Oscars. But the thing that really gets your attention is the unbridled (and sadly, seemingly unironic) appetite for jewels — sometimes as the print itself, other times actually appliquéd directly to the fabric in great globs. If it all seems a bit Marie Antoinette-ish, if the silly creature who is donning this frock and going out on the town is only interested in a fleeting good time, you might wish to remind her that those faux-pearls and phony diamonds attached to her ball gown are in fact nothing but worthless paste.