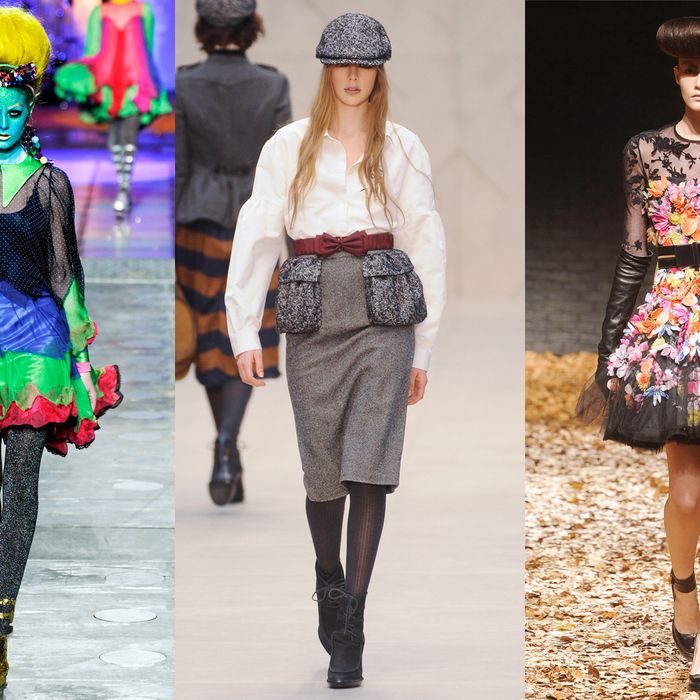 From left: looks from Meadham Kirchhoff, Burberry, and McQ
Photo: Imaxtree
Should you have any illusions that the social stratification depicted in Downton Abbey is a passel of fun, just imagine yourselves permanently ensconced below stairs, all you Marys and Ediths reading this. Stella McCartney, who shows in Paris, offers a capsule collection of evening clothes in her hometown of London this week, but the affair hews strictly to a rigid, antiquated class system — invited dinner guests witness Shalom Harlow, Kate Moss, et al, cavorting on the tops of tables; a mob of lesser fashion industry mortals, foodless and drinkless by anecdotal accounts, watch their betters cavorting from a crowded balcony.
But, really, who's complaining? Despite this unwelcome resurgence of brain-dead hauteur and the clouds of gloom forming overhead (terrible unemployment here, budget cuts galore etc., etc.), the London season lives up to its reputation as arguably the most fun of the big four fashion cities. Mulberry stocks the entrance to its show at Claridge's with shiny balloon handbags in bright gold (giving a whole new meaning to inflation); the offerings on the runway, alternatively furry and woolly, are inspired, according to the house's creative director Emma Hill, by Where The Wild Things Are.
The wild things are everywhere in evidence at Meadham Kirchhoff, with the attendees, as ever, rivaling the runway. (Where have you been all my life, oh guy in the beaded frock over track pants, hair done up in little hair horns and carrying a purse shaped like a hand grenade?) Which is not to say that the catwalk disappoints, what with its joyous homage to a disco-Warhol sensibility, a streetwalker-Chanel mash-up, sometimes with the models, their faces painted a deep red or bright blue, dragging fake fur roadkill boas.
Vivienne Westwood, who represents the old guard of dotty British eccentricity (and you have to hand it to her for sheer survival, plus she is a genius), sends out her first model in a headscarf, glasses, and trench coat, like the heroine in The Hour, yet another British costume drama, albeit one that takes place in the fifties. But this early conservatism is soon eclipsed by ikat dyes and Trilby hats. Christopher Kane employs a wood-grain print — assuming the trees are fuchsia — and, in other horticultural news, he also embraces oversize, overblown velvety purple roses.
At Burberry, the sound system, always impressive (the show is live-streamed, and no expense is spared) kicks off with Joan Armatrading singing "It's coming on Christmas" a reminder in this eerily warm winter that these clothes are meant for colder climes. The suggestions here include tweeds, bellow pockets (cute in theory, at least on the front of garments, but sadly fatifying, as a friend of mine says, when placed directly on the hips.)  For the final look, models wield umbrellas, and a great clap of thunder ensues, followed by a rush of water pouring down on the clear ceiling of the tent above our heads, though it's a rare sunny day in London. This is joined by drifting glitter meant to impersonate rain, or maybe that scarce commodity, snow.
If the falling water represents a bit of runway hijinks, McQ pulls out all the theatrical stops. Reports that this is a secondary line turn out to be greatly exaggerated — the show is breathtakingly elaborate and the clothes are among the best this year, or really, any year: belted, full-skirted military coats that manage to look both masculine and feminine; kilt-dresses, lace bodices, and dance hall girl tutu skirts by turns vintage-y and futuristic; romantic and slightly sinister. At the end of the show, Kristen McMenamy, an addled, mysterious bride in miles of white tulle, follows a rope through the catwalk to a spooky, lit-up cabin in the woods, and the audience must traverse this sylvan glade to reach the street. But in truth we are walking on air.