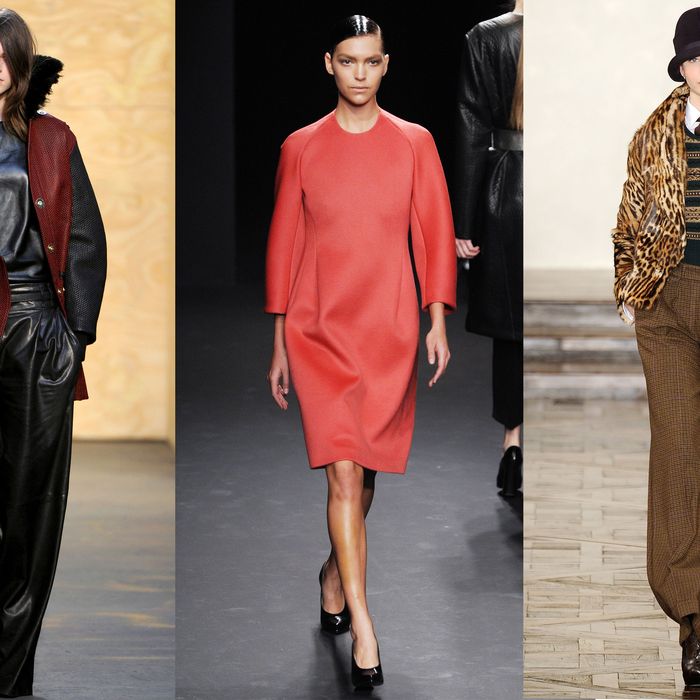 From left: new fall looks from Proenza Schouler, Calvin Klein, and Ralph Lauren.
Photo: Imaxtree
The impeccable Una, Lady Troubridge, and her partner Radclyffe Hall, author of the famously banned lesbian novel of the 1920s, The Well of Loneliness, would be right at home at the Ralph Lauren show on Thursday morning, where the reigning aesthetic is not a flapper in a gossamer beaded frock but her radical, hard-minded sister, crossed-dressed like the gentlemen of the era, in plus-fours, fair isle vests, and all manner of tweeds. A faintly short jacket is sometimes thrown into the mix, and though it is meant to look like leopard — perfectly legal in 1920 — it is now printed on calf or some other garden-variety hide decked out to resemble its illustrious forbear. In the same vein (okay, maybe stretching things just a little) baggy leather trousers at Proenza Schouler, vast enough to accommodate the burliest airplane mechanic, could be read as contemporary versions of Oxford bags, the capacious slacks that college boys donned between the wars (meaning roughly the period commencing with Downton Abbey and ending with Casablanca.)
Vintage eveningwear tropes — velvet, bows, capes, fur tippets — breathe anew at  L'Wren Scott, but the clothes are not really the draw — there is also the guaranteed presence of Mick Jagger (here accompanied by Ellen Barkin, Rachel Feinstein, and a woman who is identified to me as the girl who is in the Johnny Depp film that takes place on an island, which doesn't help much.) Plus L'Wren also gives you lunch, which this season has been upgraded from the usual sushi or potpie to a baked potato accompanied by an astonishing tin of Petrossian caviar.
No fish eggs divert you at ThreeAsFour. Instead a quartet of white-and-gold clad musicians sit on the floor and manipulate (play?) crystal singing bowls, which for at least one person in the audience is the Buddhist equivalent of chalk on the blackboard. Chuck Close and Yoko Ono  are in attendance, and many of the  clothes are based on circles, which doesn't begin to describe their cool loveliness. Some of these concentric globes have a 3-D quality, others offer laser-cut leather that manage to evoke gears and, at the same time, snowflakes. At the end of the show, not just the three designers but their whole team emerges, a gesture of basic fairness  that more houses should consider adopting.
A few hours before Calvin Klein, an email message from the PR arrives stating that "We have been made aware that the Occupy Wall Street movement has plans to stage a non-violent demonstration in the vicinity of our show." This promises to be the most enthralling event of the week — even though, much as I love OWS, I am not sure they should pick on CK, whose underpants, a quick check of their website indicates,  can be had for as little as $6.
As it turns out, there is nary a nihilist molesting our path as we settle in to watch models in austere woolen dresses, their hair and makeup an apparent homage to Rooney Mara,  who is pale and glowing in the front row. As we exit, there is a great commotion, but alas, it is not in response to a rampaging mob of feisty, black-clad anarchists:  Emma Stone  is leaving the show, pursued by a gaggle of wild-eyed photographers.
See the Complete Ralph Lauren Fall 2012 Collection
See the Complete Proenza Schouler Fall 2012 Collection
See the Complete L'Wren Scott Fall 2012 Collection
See the Complete ThreeAsFour Fall 2012 Collection
See the Complete Calvin Klein Fall 2012 Collection