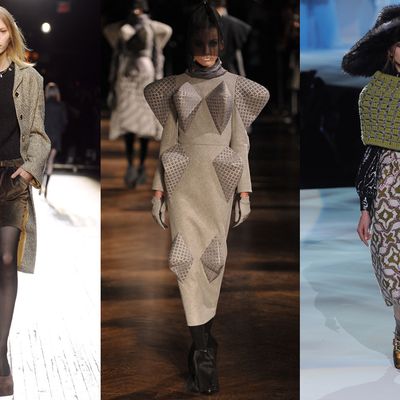 From left: looks from Theyskens' Theory, Thom Browne, and Marc Jacobs
 If, as the poet alleges, in dreams begin responsibility, then in fashion the opposite may also be true — in responsibilities can, and should, begin dreams. If you don't have a vision, if you don't have ideas you want to scream from the mountaintops (or at least whisper in the privacy of your apartment), then you know what? Maybe don't have a runway show. After four days of mostly desultory viewing (this is not just one reporter's opinion! Ask anyone else who goes to the shows!) it's time to acknowledge those artists who — for better or worse — on Monday at least had something to say.
Noon, Park Avenue Armory: Theyskens' Theory
This weird arranged marriage of class and mass, art and commerce seems, against all odds, to be working—at least in the short run. (Then again, truth is stranger than fiction, especially in fashion — who would have thought that the Tanner twins would be among the most heralded of young designers?) Theyskens, who first came to attention with a 1998 Goth Oscar dress he designed for Madonna, begins his show with a trumpet fanfare, then sends out things that admittedly you have seen elsewhere but here have a real bohemian authority (or as boho as you can manage when your brand is sold in department stores): artfully saggy jeans, boyfriend sweaters that seem to have already pilled up (saving you the trouble of wrecking them), hard-worn leather jackets, and a personal favorite—velvet shorts that looked like they've been left out in the sun and are now a faint shadow of their former glory.
5 p.m., The New York Public Library: Thom Browne
This designer, whose presentations are so cinematic, he seems at time to be a frustrated film director, continues to spin deeply felt fantasias. Last season, he invited the audience to view a sapphic flapper party; this year it is disconcerting to see a row of coffins in the dignified room where he stages his event. Maybe it's the recent deaths of Whitney and Amy, but are we really in the mood for caskets, even when they are lined in Browne's trademark blue-and-white striped fabric, even when they hold beautiful models who emerge in TB suits, their lovely faces covered by shrouds? A narrator explains that this is the story of ten fashion-obsessed girls who rise from the dead twice a year, when the collections are presented. The models who move in and out of this graveyard have silver zombie lips and black tulle on their heads and covering their feet. They sport frocks with tiny hem-to-collar Victorian buttons, a ghostly wedding dress covered in mirror shards, and many ensembles rendered in a mélange of ghoulish grays — necromania monochromania if you will — draped and sometimes audaciously springing 3-D triangular puffs, like dinosaur bumps.
7:55 p.m. Lexington Avenue Armory: Marc Jacobs
Now and again, right before the models emerge at a Marc Jacobs show, denizens of the front row play a game: They look at the set — which this season is a vast ghostly landscape with an oversize winding path — and guess what Marc will be showing. Sepulchral French schoolgirls? Space cadets? But invariably, you're way off track. This time, Jacobs sends out a gaggle of neo–Eliza Doolittles to the strains of "Who Will Buy" from Oliver! They're wearing huge floppy hats, like turn-of-the-century bonnets on steroids, and a glorious, uplifting confabulation of elements — tapestry skirts, portrait-collared coats done up in fuzzy techno fabrics, shawls pinned over sequins, and dresses with gently rising curves that veer dangerously close to bustle territory. On their feet, the models sport pumps with pilgrim buckles, ready to stride into a brave new world of the imagination.