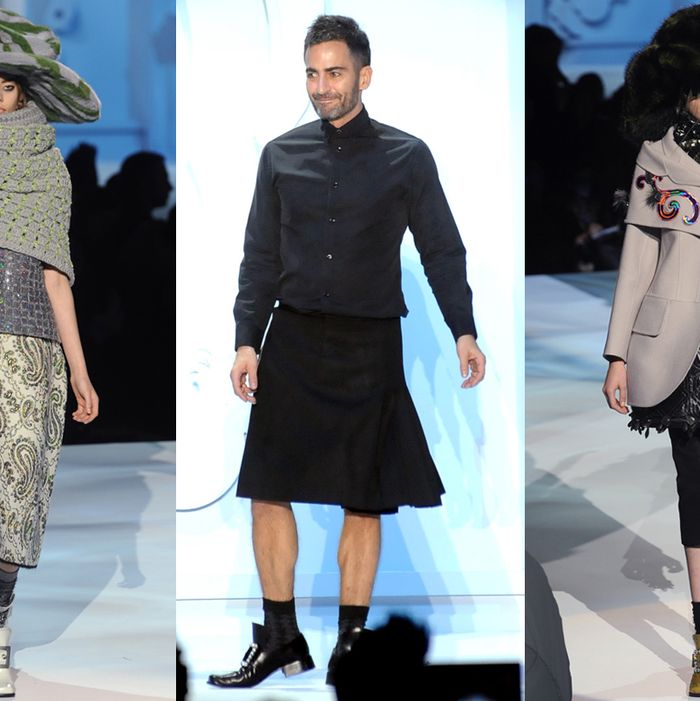 Models Ondria Hardin (left) and Thairine Garcia (right) in Marc Jacobs's fall 2012 show.
At least two of the models who walked in Marc Jacobs's show last night were younger than the CFDA's minimum age recommendation of 16. This is particularly awkward because Jacobs is now a member of the CFDA's board, which redoubled its efforts to enforce the age minimum this season by encouraging designers to card their models. However, last night Jacobs told the Times that he disagreed with the CFDA's stance.
I do the show the way I think it should be and not the way somebody tells me it should be … If [the models'] parents are willing to let them do a show, I don't see any reason that it should be me who tells them that they can't … There are children actors and children models for catalogs and stuff, so I guess if a parent thinks it's O.K. and a kid wants to do it, it's fine.
The two models in his show who are under 16 (and there may be more) are Thairine Garcia, who's from Brazil, and Ondria Hardin, a North Carolina native who also walked in Jacobs's show last September, when she was only 14. Both are represented by Ford Models, which has also politely refused to follow the CFDA's age recommendations. Ford released the following statement: 
We take the age and maturity of our models very seriously. We work on a case-by-case basis alongside a prospective model's parents to make a determination as to whether they are ready to walk the runway.
While there's no clear-cut rule stating that CFDA leaders should follow their own guidelines, it does seem hypocritical for board members to flout them. When CFDA president Diane Von Furstenberg unknowingly cast 15-year-old Hailey Clauson in her show last season, she quickly apologized for the misstep; obviously, Jacobs won't do anything of the sort. For better or for worse, the man does what he wants.
Related:
See the Complete Marc Jacobs Fall 2012 Collection
Amy Larocca on Marc Jacobs: Like Something From a Storybook