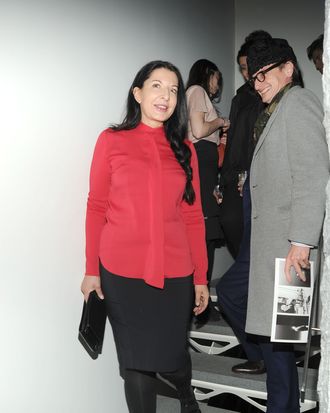 Marina Abramovic, Hamish Bowles==CoSTUME NATIONAL, ENNIO CAPASA, MARINA ABRAMOVIC and WILLEM DAFOE Celebrate Tim Hailand's One Day in the Life of Robert Wilson's The Life and Death of Marina Abramovic==Private Residence, NYC==February 12, 2012.
Photo: Patrick McMullan/PatrickMcMullan.com
The artist has stared down museumgoers for hours on end, carved into her own skin, and thrown herself on a fire for her performance pieces, but don't expect her to tolerate too-tight shoes.
"I hate uncomfortable shoes. I prefer three numbers bigger. Then I am comfortable, " she said at last night's preview party for Tim Hailand's photo book, One Day in the Life of Robert Wilson's The Life and Death of Marina Abramović, hosted by CoSTUME NATIONAL's Ennio Capasa. If that's the case, how does she deal with the extreme discomfort she puts herself through for her art?

"There's a staging situation where you really confront yourself with the fears, in front of the public — use the energy of the public. So they can do [it] themselves in their own life. It's a really different message," she said. "I work really closely with Riccardo Tisci of Givenchy. We are really friends. He came to see my movie in Berlin, and he sent me the shoes for the red carpet, and [an] outfit. It was like minus 21 Celsius, and it was just sandals with one strap. I said, 'I'm going to die.' And then he said, okay, I'm going to get you something else. It was like one hour before the red carpet. So he went to the shop and he brought me the Jil Sander men's shoes! I said, 'This is the best!' I had the best day, because I really was comfortable all evening.'"
Abramović wasn't even able to wear the red Swarovski-stoned earrings that Givenchy jewelry designer Jovana Djuric brought her to wear for the evening – she's never gotten her ears pierced.
"I never had holes. I don't want any painful things in my life – my private life. If I have to do them on the stage I don't want them in private," she said. "If I cut a finger cutting garlic, I cry like a baby."