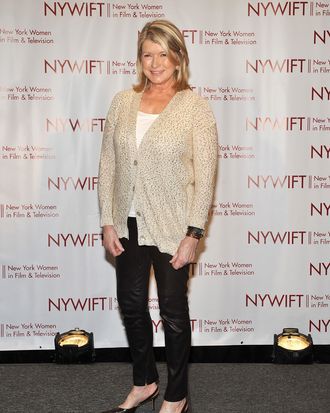 Martha, standing firm.
Photo: Fernando Leon/Getty Images
Martha Stewart Living Omnimedia's lawyers struck back at Macy's in court on Friday, claiming that Martha Stewart is free to peddle her wares wherever she pleases. Macy's sued MSLO a few weeks ago for striking a deal with JCPenney, which allegedly violates Stewart's contract to sell her products "only at Macy's," the tagline that Macy's sunk millions of ad dollars (and Usher!) into promoting. But MSLO's lawyers now argue that Martha Stewart's contract with Macy's wasn't exclusive at all.
Reports the Wall Street Journal:
"Macy's simply has no exclusive right to Martha Stewart Living's creativity order sign concepts, now or in the future," the filing said.

While Martha Stewart Living-designed goods are sold in approximately 600 Macy's stores, they are also available in over 6,000 retail outlets, including Home Depot and other large chain distributors, the filing said.
Meanwhile, WWD reports that MLSO is moving to invalidate the recent renewal of their contract with Macy's, which extends their partnership to 2018, due to claims that the retailer failed to "maximize net sales" of Martha Stewart's products. So, looks like this will be a nice messy lawsuit rife with terrible — and by that we mean excellent — puns like "the oven mitts are off" and "this pillow fight could leave some bruises" (courtesy of the Journal and the Post, respectively).
Related: 
Macy's Sues Martha Stewart for Breach of Contract
The Comeback That Wasn't