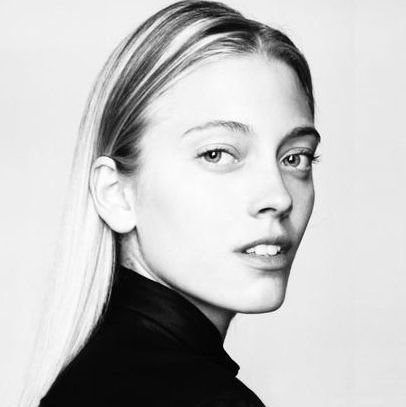 Twenty-one-year-old Italian Anna Zanovello was first spotted two years ago at a beauty competition, in which she wasn't even entered — she was there supporting a friend. Last fall, Joseph Altuzarra gave her the opening slot in his spring 2012 collection in New York; she later walked for Donna Karan, Dolce & Gabbana, MaxMara, and Theyskens' Theory. Then, while all her peers went on to Paris after Milan Fashion Week had ended, Zanovello attended a monthlong program at Moscow's acclaimed Bolshoi Ballet School. The engineering student talked about balancing her career with school and her rigorous ballet practice, as well as how tough it can be for Italians to get modeling jobs. 
Tell me a bit about your childhood.
I lived in a small town near Verona with my parents and my sister. I started ballet when I was 5 years old, so that was a huge part of my childhood. I would drive my parents crazy because I always did ballet in the street — it was not possible for me to just walk. But I was also really academic and responsible when I had to get something done.
How were you discovered?
Two years ago, I was at a beauty competition — something like Miss America — to support my friend. A model scout came up to me and asked me to come to Milan to pursue modeling, but I said "no," because I had no time with ballet and school. But he was very persistent, so I traveled to Milan in May 2010 and started to do small, local gigs.
And then you signed with Wilhelmina this past summer.
Yes, I wanted to wait to work globally because of my studies. I came to New York with absolutely no expectation and got set up with Wilhelmina.
Your breakthrough was opening Altuzarra's spring 2012 show in New York. Joseph told us that you inspired him for the show's makeup and hair.
He is a sweet guy, really gentle, and kind. He would always ask if I needed water while working. When I met him for the first time at the casting, I remember he made me walk many times with different struts and hairstyles. The day after, I started doing looks with his team, but I still didn't think I was booked for the show; and then I did the makeup and hair looks for the show.
So you had no idea you were going to open the show, let alone walk for Altuzarra?
I had no idea until he said to me, "Oh, yes, you will do the show and open the collection, too." I am still grateful to him because of this.
You went on to Milan to walk for Dolce and MaxMara, among others. See anything interesting backstage?
Honestly, I was scared to go to Milan because it's really difficult for Italian models to work there. For starters, there are not a lot of Italian models and at castings people know when you're Italian. I ended up walking for nine shows, so I'm very glad about that.
Aside from Carla Bruni and Mariacarla Boscono, there does seem to be a lack of Italian models, which is kind of odd given that Milan is one of the world's fashion capitals.
I think it's because Italian women have a Mediterranean body, so it's really difficult to stay slim. It's not like a girl from Holland who tends to be genetically slim. It's also a question of measurements and I feel like many Italian women aspire to work in TV or film, instead of high-fashion modeling.
What's your diet like?
I do have to pay close attention to what I eat. I don't eat pasta or pizza anymore. I've replaced that with lots of vegetables and lean meats. But, I do always eat sweet things in the mornings, though, like a cake or muffin. I can't start my day without it.
How often do you exercise?
If I can, I try to go every day, but not for a long time. Maybe I'll do an hour of cardio. And, of course, I still try to practice ballet.
I heard you skipped Paris Fashion Week because of a ballet opportunity.
Yes. In December, I entered a competition where one of the judges was the director of the Bolshoi Ballet School in Moscow. I won first prize and part of the award was spending a month studying at the Bolshoi.
An opportunity at the Bolshoi certainly takes precedence over Paris Fashion Week. Tell us about that experience.
Well, Moscow was really different than all the countries I've traveled to. They have a different way of thinking and a lot of people don't speak English at all so it was nearly impossible to communicate. I kind of had culture shock when I first arrived there. But the school itself was an amazing experience.
Ballet or Modeling … which career gives more pressure to be thin?
Well, I met a lot more bulimic girls [doing ballet]. I think it's worse in ballet because they check your weight and if you're above a certain weight, you leave the school. It's horrible.
On a lighter note, read anything good lately?
Before I left Verona, my best friend gave me The Little Prince. But when I have any free time, I usually study instead for my engineering degree.
So how are you juggling school and work right now? Are you doing both?
Well, I'm almost done with my studies. I only have three exams to complete before graduation. The problem is that exams always take place the same time Fashion Week happens, so it's hard to find the time.
What's the last thing you bought?
A pair of Maison Martin Margiela trousers. I found them on sale at Century 21.
Model Profile: Anna Zanovello
Explore other rising stars (plus all the big names) in our extensive Model Manual, featuring runway pics, glamorous editorials, model bios, career timelines, and more.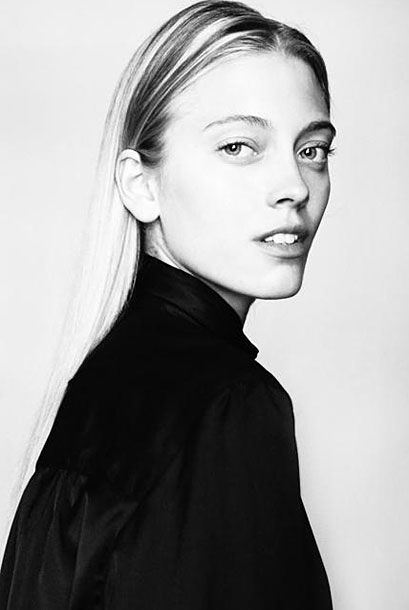 Head shot.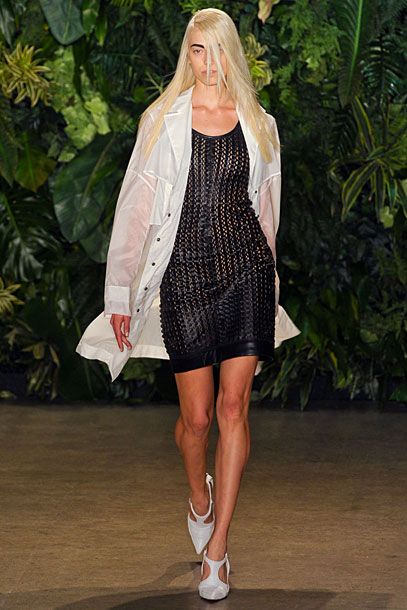 Opening the spring 2012 Altuzarra show in New York.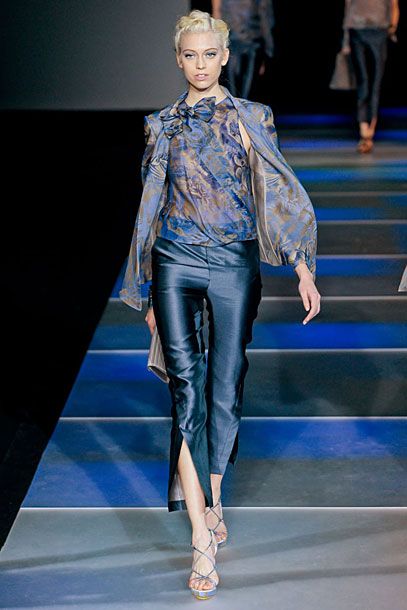 Walking the spring 2012 Giorgio Armani show in Milan.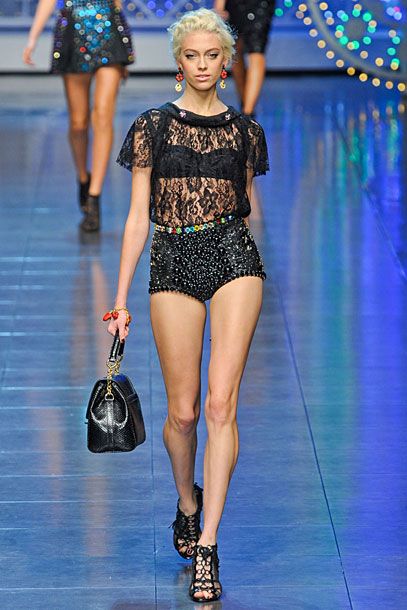 Walking the spring 2012 Dolce & Gabbana show in Milan.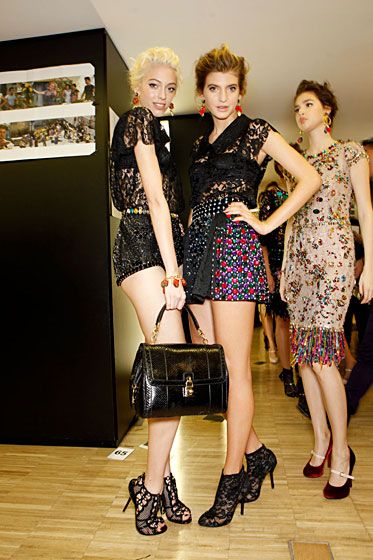 With Caterina Ravaglia at Dolce & Gabbana in Milan.