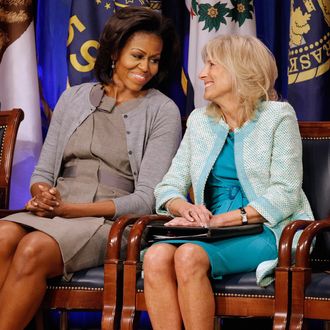 U.S. first lady Michelle Obama (L) and Dr. Jill Biden attend an event to announce a new report regarding military spouse employment at the Pentagon February 15, 2012 in Arlington, Virginia. The report, "Supporting our Military Families: Best Practices for Streamlining Occupational Licensing Across State Lines," says that military families face a greater financial burden when moving from state to state due to licensing and credentials costs. Obama, Biden and military officials pledged to work to reduce this burden.
Photo: Chip Somodevilla/Getty Images
Michelle Obama wore a beige dress by Moschino with a light-purple cardigan to discuss a military spouse employment program at the Pentagon yesterday. See the full outfit in our Michelle Obama Look Book.