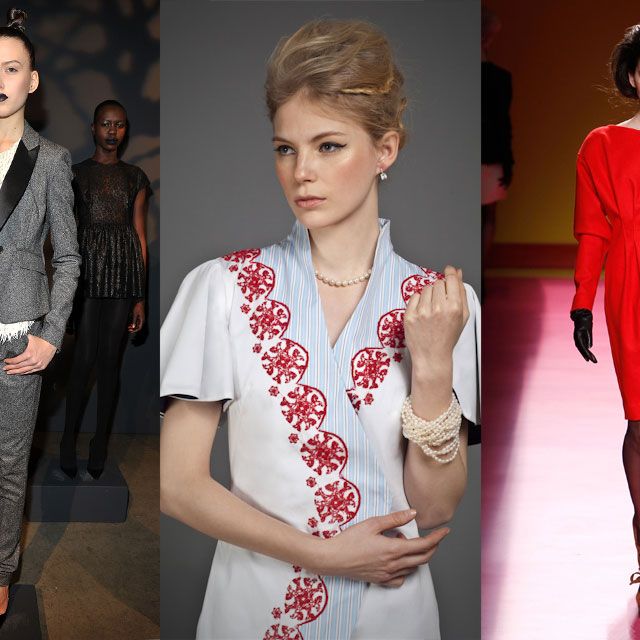 Fall 2012 looks by Tribune Standard, Maison Murasaki, and Chadwick Bell.
Photo: Joe Corrigan/Getty Images, Courtesy of MisonMuraski, Mark Von Holden/Getty Images
Fashion Week invites come in all shapes — metal plates, clear plastic cubes, 3-D pop-ups, and even a rubber claw — but as industry veterans know, the louder the invite, the more unknown the designer. Elaborate invitations gasp for air and spur the question: Who are these new arrivals and who, if anyone, is going to their shows?

The established labels that you already know about — the Michael Korses, Derek Lams, and Calvin Kleins — can easily fill up the eight days of New York Fashion Week. Getting buyers and editors to fit in one more show is not easy if you're new and unknown, creating a daunting hurdle for every designer trying to establish a foothold in the business.
Turning a label into a business that can stage a show deserving of the industry's energy is a years-long process, a very small part of which is devoted to actually designing clothing. Sustaining a business and forging relationships with the industry's veteran players is an exhausting dance that few designers relish, and even fewer master.

"If someone's standing out in New York Fashion Week, it's not the first time folks have heard about them," says fashion publicist Umindi Francis, who is known for her work with up-and-coming labels. "It's kind of naive to think you can come out of obscurity and all of a suddenly rise to notoriety."

Designers often need to woo publicists like Francis for a couple of seasons before she decides to take them on. Often they are simply not ready. "Since I've launched my company in the last year, so many emerging designers have come to me for representation and it's simply — you don't need me at the moment," she says.

For designers who are just starting out, cracking Fashion Week can be a frustrating process.

Take Maki Obara, 33, whose fifteen years in the fashion industry include gigs at Vivienne Westwood and Céline in Japan.  She debuted her first collection, Maison Murasaki, at the Yotel in midtown on the Monday before Fashion Week began. Friends did hair and makeup for free, and she called in favors so she could use the space without paying, but she didn't have the resources to hire a publicist.

"To be honest, not a single press or buyer person responded to the invites," she wrote me in an e-mail the day after the show. "But it was fun."

And she has spent a lot of energy and money on her 15-look, 25-piece collection. After a financial backer fell through, her parents loaned her the $70,000 she'd need to start her line from their retirement fund. The samples she made are now hanging in Showroom Seven, which will get the line in front of buyers. Obara must pay a monthly fee for the showrooms, and it's not cheap. "The designing part is really nothing," Obara says. "Ninety-five percent of it is business."
Chadwick Bell showed in Lincoln Center for the first time this season, to a crowd that included the stylist Mary Alice Stevenson and Elle style director Kate Lanphear. "It's a one-brick-at-a-time business," he said a few days before his show. "You have to know your client and know what their needs are and meet them, meet their friends. You can do shows all you want but at the end of the day you have to sell clothes."

His first shows were very small and were limited to clients he met while working at Bergdorf Goodman as a Chado Ralph Rucci specialist*; he made his industry Fashion Week debut with a presentation in a West Village townhouse. Though showing off-site afforded him a cool location, he quickly learned it wouldn't attract many industry people. "There is a community in the industry and you really have to participate," he says.  

Tawfik Mounayer started his label Tribune Standard a few years ago after working in fashion for fifteen years for companies like Liz Claiborne, Isaac Mizrahi, the Gap, and Loft (formerly Ann Taylor). He started showing a year ago with very small private appointments, but has held presentations the past three seasons at Pier 59. "If you're doing it because of the shows, that novelty wears off in season two," Mounayer says. "It's exhausting — it's like getting married four times a year. There's an invitation, planning, and on top of that you have to design what everyone's wearing to your wedding. To me those ten or fifteen minutes are amazing, but that's not enough to sustain you as a designer."

W editor Stefano Tonchi says he always takes the time to "go and see somebody new" at Fashion Week. But many of the new designers he sees have been around for seasons (he cited Juan Carlos Obanda, who is hardly fresh out of the gates). And while editors laud New York for the many funding schemes and sponsorships available to emerging designers, most of those require designers to have sold clothing to stores already and been in business for at least a couple seasons. "The CFDA, they have their emerging designers," Obara laments, "[but] how do you get to that point for the CFDA to even see you? There's a massive problem in this business."

Francis thinks the requirements to apply for such funding schemes are warranted. "If you've been putting the time and effort in and you've been reaping results, you deserve the award," she says. "It's a monetary award, and they want to make sure individuals can do something with it."

T magazine editor Sally Singer urges designers to carefully consider if showing is the right move for their label. "I think it's a mistake to put everything into a show and to believe that that will launch your business if you don't have money for production and if you don't have money to actually show to the buyers," she says. "You can have an impact, but it's hard … you have to almost be a parasite to a bigger show. And then you have to have money to make the clothes. So often people put all their money into their show samples and they don't have any money to take the orders. You've got to be ready to spend money to hopefully, one day before you're 80, make some money."

Francis adds: "You never know when you're one step away from your victory. You have to have heart."

— With reporting by Jenni Avins
* This post has been updated with Bell's most technical title when he was working for Rucci at Bergdorf Goodman. He was technically a "specialist" for the brand, not a sales manager, as previously stated.