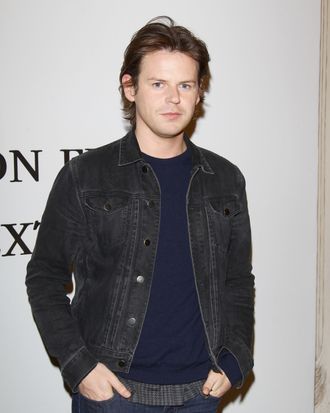 Christopher Kane.
Photo: Vittorio Zunino Celotto/2011 Getty Images
"No grain of gossip is too small to grow into a mighty story," writes the IHT's Suzy Menkes today in an article titled "We Are All Guilty for This Mess," and she's right on both counts. Except one could argue that this game of fashion musical chairs isn't a "mess," but rather a carefully planned bid by fashion executives for maximum suspense and press coverage. Why else would fashion houses save this designer-swapping for the eve of Paris Fashion Week, when hoards of tired, cranky fashion journalists board (decidedly non-Chanel) planes together in Milan and find themselves desperately in need of something to make small talk about in the smelly bathroom line? God forbid a label hire a new designer during some nice quiet week in July, when people could happily tweet about it from the beach and then go back to sipping their mai tais without a huge fuss. 
While fretting about the current state of fashion's rumor mill, Menkes laments the speed at which her own speculations morph into BIG NEWS reported  gleefully as fact (namely, her report last year that Raf Simons might go to Dior at some unnamed point in the future). Which makes it a bit ironic that, buried in the third-to-last paragraph, is a mention that Christopher Kane might be in the running for Dior, too:
 But what if — as the rumor mill claims — Mr. Kane has been put up for the Dior job? There will be yet another round of musical chairs.
So go ahead and spread it, folks. Like Suzy said, we're all guilty.
Related:
Suzy Menkes Suggests Raf Simons Will Go to Yves Saint Laurent, Causes Mild Hysteria
Confirmed: Raf Simons to Leave Jil Sander
Stefano Pilati Out at YSL