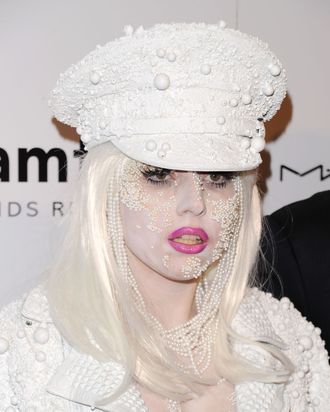 Doing this with baseballs would be tricky.
Photo: Andrew H. Walker/Getty Images
For her sixth column in V magazine, which appears in the new sports issue (although it could be considered her fifth, because she didn't actually write her last one), Lady Gaga hesitantly discusses baseball. See, she never played sports, but she does enjoy going to Yankees games and drinking her face off — sometimes to the point where she confuses the Yankees and the Mets, which is a totally understandable mistake in our opinion. Anyway! Since she feels the need to discuss Deeper and More Important Issues in her columns than getting wasted in Queens, she turns the subject to pearls. Namely, the similarities between pearls and baseballs.
Christmas this year was the first time I really bought myself anything nice. I don't equate money with style, nor do I equate it with happiness. I'm often content hiding in the back of places like Claire's, schlooping costume jewelry into a basket.

However, it just so happened I was in Japan, and I decided to buy myself a strand of Mikimoto pearls… The staff from Mikimoto arrived, we cracked open some champagne, and my buddy Brandon and I tried pearls on and swooned. I quickly decided that I couldn't only buy one for myself. I would feel terrible. So I made it about the girls: one for my mother, my gorgeous and talented sister, and Bo, my best friend. It was to be a sign of our womanhood, a thank you for fostering mine, for my sister a sign of things to come, and for my mother a strand of pearls to represent each of the blessings she had cultured for our family over the years.

I lay down on the airplane back from Japan, tossing around some dashi, fondling my pearls. I watched the movie Moneyball for the first time. I began to laugh and smile as [Brad] Pitt talked romantically about the game. I suddenly imagined that my pearls were teeny-tiny baseballs. When a player hits a home run, the baseball is flung into an abyss of enigma and screams so great. It travels so far that only rarely is one caught in the bleachers. Where do these balls go? Where do all these wins get encased? Are they in a heavenly baseball land floating around for players who pass to acknowledge? Or do they disappear?
Well, a "heavenly baseball land" seems like a stretch, but there's one thing we can take from this: Next time Gaga gets hammered in the bleachers, maybe she'll have pearls on?
Related:
Exclusive First Look: Lady Gaga's Latest V Column Is Not by Lady Gaga 
Lady Gaga Makes Cathy Horyn the Luckiest Girl in the World