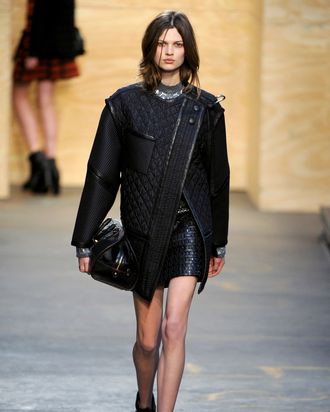 Proenza Schouler, doing their part.
Photo: Alessandro Lucioni
You know this ongoing theory that when short skirts are trendy, the economy booms, and vice versa? Which doesn't hold water anymore (if it ever did) because hemlines haven't remained a single length in well over a decade? Well anyway, Business Insider decided to peer into the crystal ball that is this season's runways and make some vague economic predictions based on their findings:
For the first time, Business Insider conducted a full analysis of hemlines at New York fashion week, measuring some 2,092 images from 25 designers, comparing year-on-year changes in the length of skirts and dresses.
The BI Hemline Index is calculated by measuring hem length as a percentage of the length from floor to waistline.  The shorter the hemline, the higher the index.

Overall, average hemlines in 2012 registered a 44.38 on the index, up from 35.04 for the Fall/Winter 2011 collections.
So if the hemline theory is right, we should all have more money to shop for said skirts by the time they hit stores!