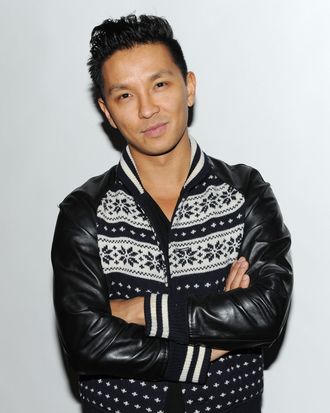 Gurung and his favorite jacket.
Photo: Andrew Toth/PatrickMcMullan.com
If one has recently run into Prabal Gurung, chances are he was wearing a varsity-style jacket with black leather sleeves and a navy-and-white knit placket — or taking it off to be photographed, as he was last night at the Business of Fashion's fifth birthday party at the Hotel Americano.
"I can't take a picture with this on!" the designer said, laughing and handing it to a friend. "I have so many pictures." So what was the story of that magical jacket?
"Ever since I started my company, I haven't shopped at all. And after the last spring show I finally was like, you know, I deserve a treat. I always go to Commes Des Garçons, to the store, and you know, I can't afford to buy,"  he said. "Finally I gathered up some points and decided to treat myself. It's been the best thing that I've bought, cause it's easy and it reminds me of school and I just like it. It's personal enough to go from an event like this to work. Truly, I wear it almost everyday. I always wear the same stuff, because it's just not about me. I design clothes for women. Once I have my own menswear line, maybe then."
Is menswear in the works? "I don't know how soon, but that's definitely the plan," he said. "It'll be fun to dress myself, my friends, everyone."