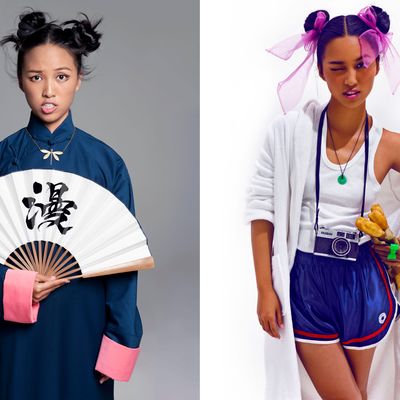 Two of Chen Man's self-portraits.
Chen Man's upbeat, color-saturated images have made her one of China's foremost fashion photographers. Her work first appeared in Vision magazine almost ten years ago and has since turned up in publications like Chinese Vogue, Elle, and Bazaar. More recently, Man shot people of various Chinese tribes for i-D magazine's spring 2012 covers, and brought her strong sense of color — which she attributes to childhood training in Chinese painting — to a MAC makeup line (which arrives at MAC locations in North America from March 1 - April 5). Here, with the help of her translator, Chen Man tells The Cut about the distinctions between Eastern and Western culture (and clients), and why she loves working creatively to bridge the two.
The Cut: What are some of the differences between working with an American client versus a Chinese client?
Chen Man: The difference is quite large. In China, the fashion world is still developing. Their taste, their concept, their definition of fashion is still being formed. [With a Chinese client], she needs to spend a lot of time painting the picture to persuade them of her vision. Western or American clients have been exposed to the creative world for a longer period of time, so their flexibility can be greater.
How much does she identify herself in her work?
She almost considers herself a bridge between Western and Eastern cultures. For Chen, the Chinese culture is almost like the software, and the Western culture like the hardware. There are many skills involved from the Western world, but there's a certain substance in the Eastern culture. She uses her skills to demonstrate this to the outside world.
Going back to her work with MAC for a bit, tell me a bit about the process that she went through in creating the makeup line.
The inspiration was water and love, and combining the Eastern and Western cultures. You can see this in the colors. The blue hue from the collection is actually a very traditional Chinese blue, and this represents water. For love, because it's very intangible, she chose many pastel colors.
How has China's booming economy affected its art world?
She feels that in the modern Chinese society, Chinese people are heavily influenced by the Western culture. But Chinese people still have their own culture in their hearts, in their blood. In the modern world, technologies sort of blindfold the newer generation because there's so much happening. That's why she's trying to bridge her work back to traditional China, while still being modern.
How would she describe her style?
Tired and lazy. But this is not her own style; most people in Beijing dress this way. The culture of Beijing is quite laid-back. In Beijing you see a lot of people's fashion being loosely fitted with a pair of flip flops. What they truly treasure is something more intrinsic: emotions.
As a Chinese artist, does she ever fear censorship of her own work?
She was brought up in the Cultural Revolution, so she experienced art from a very young age. She's been very fortunate to have the opportunities to try different art forms, including photography and painting. Personally, because what she's doing now is trying to bridge the Eastern World to the Western World, she doesn't feel a lot of pressure in terms of censorship. She's actually very happy with that.