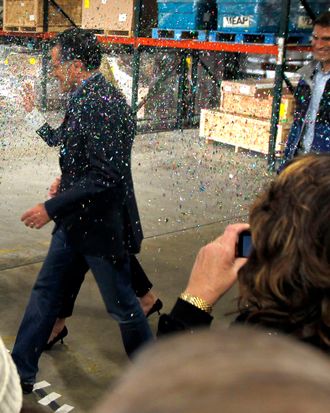 Romney being glittered.
Photo: Gerald Herbert/AP
Following multiple glitter-bombings from gay rights activists in Minnesota yesterday, Mitt Romney was swiftly dusted off by his entourage onstage. His son Josh managed to brush away most of the sparkles on Mitt's shoulders, but as you can see in this video, he balked when it came to touching Mitt's head — and perhaps with good reason. "I've got glitter in my hair, but that's not all that's in my hair," Mitt joked. "I glue it on every morning, whether it needs it or not." Speaking of glue and sparkles and potential awkwardness, we have a suggestion: pink glitter-cupcake bombs! Now that would be a movement.