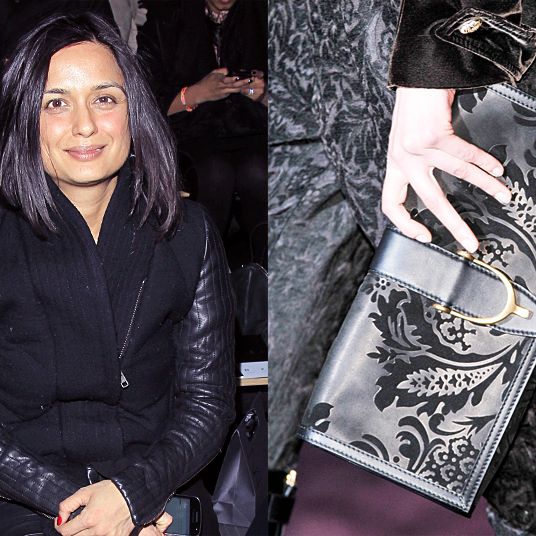 Roopal Patel 3.1 PHILIP LIM Fall 2012 Fashion Show February 13, 2012
Photo: Patrick McMullan, Imaxtree
From color-block fur to jewel-encrusted dresses, Milan's fall collections were all about luxury. "The feel is very sultry, decadent, and ornate," says Moda Operandi's fashion director Roopal Patel. "Really, it's about what the Italians do best." The emerald and plum hues, flocked velvet eveningwear, and elaborate embroidery all had a fresh, elegant feel, resulting in was a particularly dynamic Fashion Week, she says. "You really started to see the signatures of some of these houses strengthened and rising to the top as standouts," after highs and lows in New York and London. Some of her favorites: the breathtaking houndstooth sequin coat at Pucci, Bottega Veneta's twist on the LBD, and metallic gold kicks at Marni. Click ahead to see the rest of her picks from the week.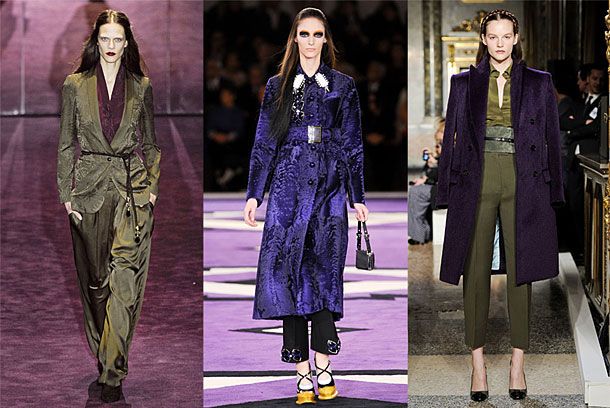 Jewel Tones
"Jewel tones have always been synonymous with the House of Gucci, but at Prada, you saw how she was taking the classic color spectrum and breathing new life into it. We also saw some great monochromatic suiting and evening looks in jewel tones — deep purple, emerald green, and burgundy." Must-have: Jewel-tone tailored jacket by Gucci (left)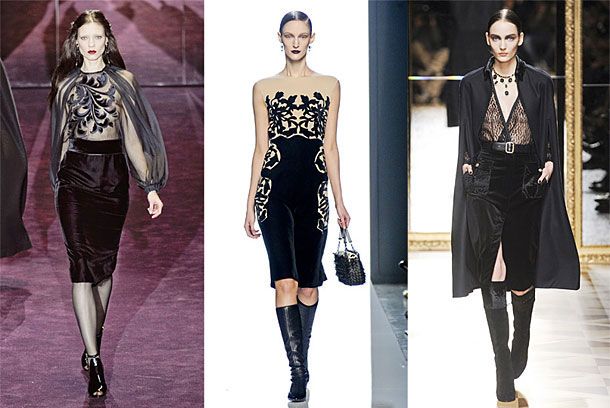 Velvet
"Velvet is most definitely a trend, from flocked velvet to brocade to burnout velvet. Thomas Maier made the little black dress look new." Must-have: Velvet dress at Bottega Veneta (center)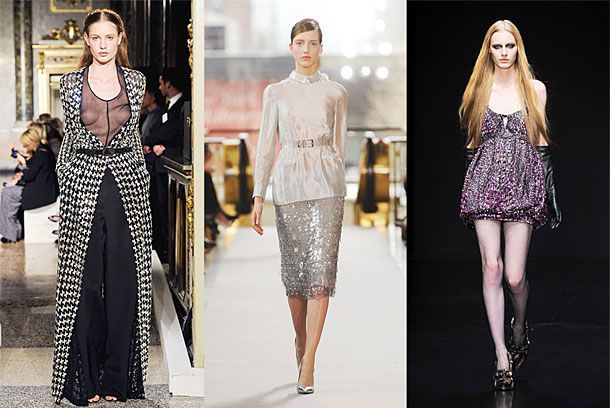 Sequins
"Sequins and beading were evident on many of the runways, adding a sense of glamour and texture. Pucci had a gorgeous, very sexy collection. When that houndstooth sequin coat came out, your breath just stopped." Must-have: Sequin houndstooth coat by Pucci (left)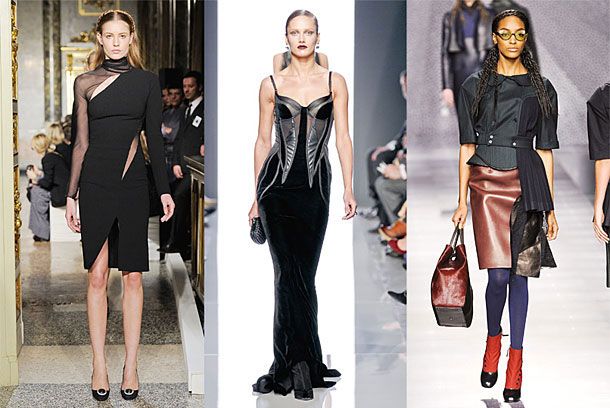 Peekaboo Cut-outs and Sheer Detailing
"You're always looking for that dominant, sexy, confident woman on the Milan runways, and the sheer panels and slits of skin peeking out gave the clothes a particular allure. Fendi showed a beautiful burgundy leather skirt with slits and lace inset. We've seen a lot of sheer, but slits were more prevalent here." Must-have: Leather and lace skirt by Fendi (right)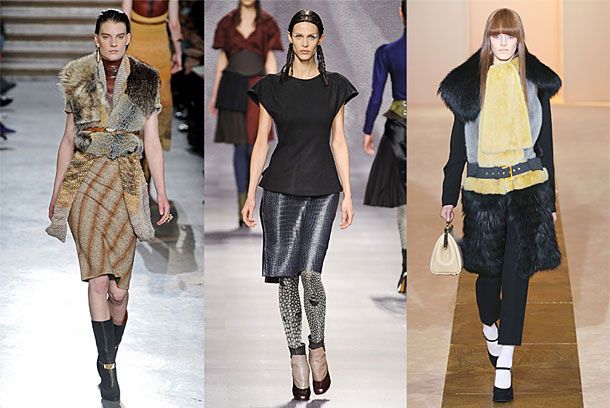 Fur and Exotic Skin
"When we talk about texture, we have to talk about fur. It's a very luxurious season here: You'll see brocade, sequins, velvet, and fur all layered together. Fendi worked a lot of exotic fabrications, from the color-block fur to that navy crocodile dress." Must-have: Croc-print accessories.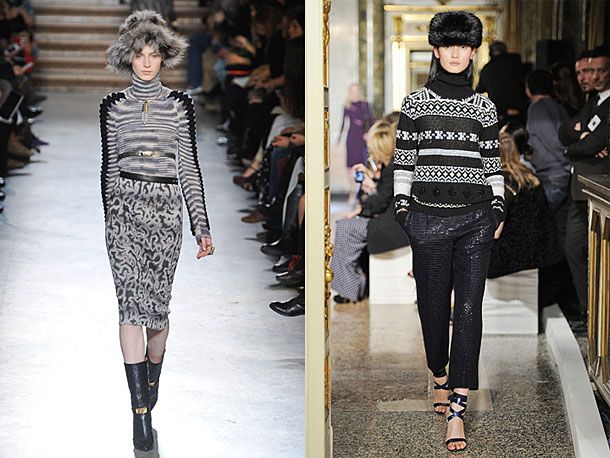 Sweater Sets
"Missoni, of course, showed incredible knits — this season, in a muted color palette. We saw a lot of sweater-skirt combinations and mix-and-match patterns." Must-have: Sweater set by Missoni (left)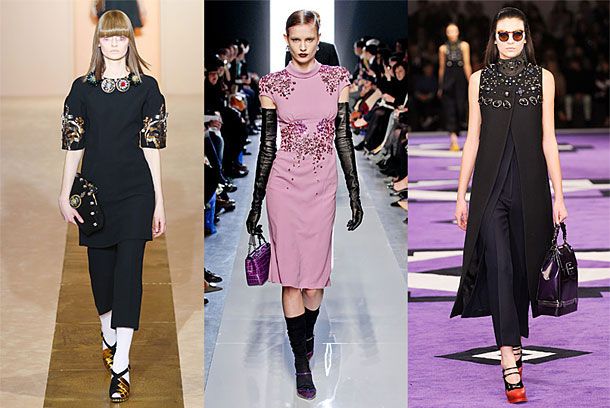 Jewel Embellishment
"We saw jewel embellishment at several of the shows, and it felt very new. Prada's first exits had that incredible jewel detail, and Marni and Alberta Ferretti both used jewels on the collar and trim. It's pushing the idea of embellishment." Must-have: Jewel-embellished shifts at Marni (left)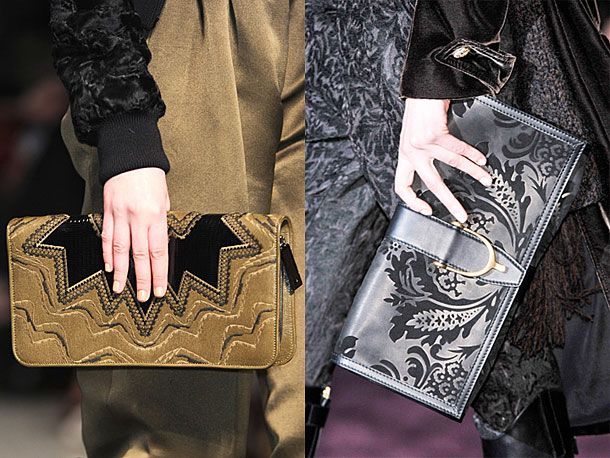 Mixed-Media Clutches
"The clutch continues to be an important silhouette. Designers are definitely treating handbags and accessories in the same way they're treating ready-to-wear, giving them beautiful embroidery and embellishment. At Fendi and Bottega and Gucci, you'll see those up-close-and-personal ready-to-wear details, from embroidered leather to hand-woven backs." Must-have: Leather clutch by Gucci (right)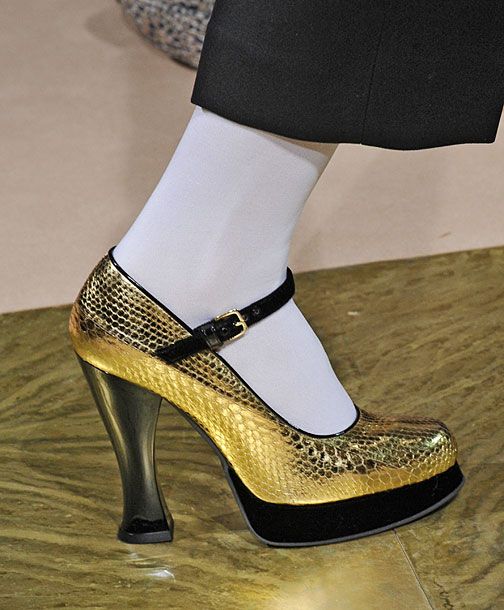 Metallic Heels
"This season we saw a lot of really beautiful combinations of black and gold, with metallics extending into footwear. It's like a different interpretation of color-blocking, in a way, but mixing suede and metals. Marni had those incredible black and gold exits at the end of the show, which was complemented by the metallic footwear." Must-have: Metallic gold shoes by Marni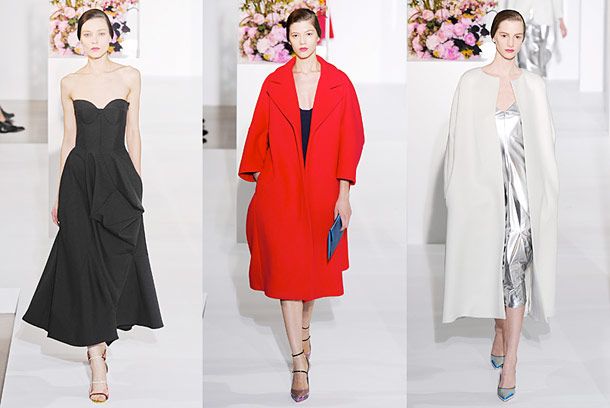 Raf Simons for Jil Sander
"Jil Sander's collection was an incredible standout. It was very clean, very linear, and very minimal — I think it almost made for a seasonless collection. A few looks will become quite iconic: the beautiful tomato-red coat, the silver dress paired with the white coat, and the strapless black dresses at the end. This is a show that will have incredible impact." Must-have: Tomato-red coat by Jil Sander.