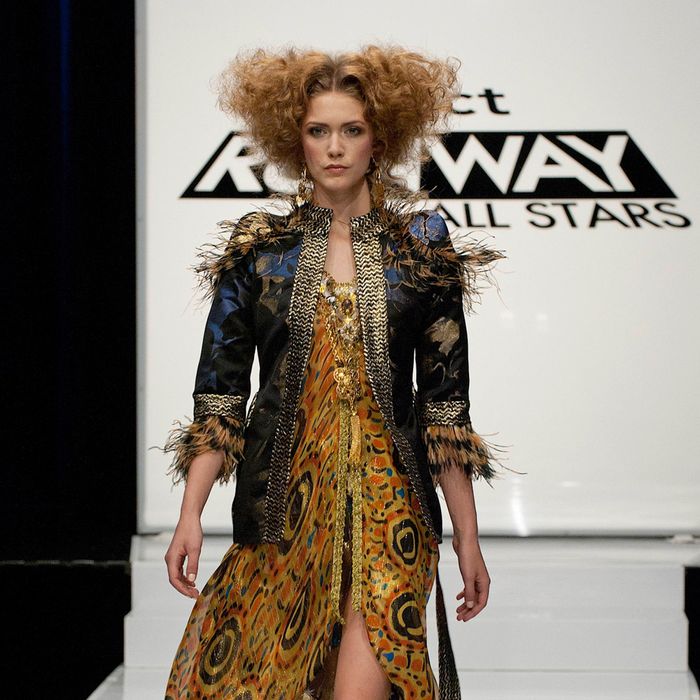 This week, the designers start things off by meeting Angela at a theater, which can only mean one thing: costume challenge! (Actually, it also means we're going to be treated to a lot of overly dramatic proclamations about how much each contestant loves a good show.) Angela wastes no time in explaining the task at hand: They must make a costume for a rich-bitch character in Godspell. The winning design will be worn by the actress on stage, and the winning designer will get their biography in the show's program. Fame indeed. This is arguably a tough challenge because it's vague enough that, really, anything goes; also, Runway's designers have been well-conditioned by the judges to believe that all things "costume" are bad, bad, bad. This likely explains why, in the end, the outfits they produced were understated by theater standards — and made with little thought given to their on-stage functionality.)
When Joanna joins the designers in the workroom for their crits, she reveals she has a certain expertise in theater arena: She once performed in Godspell herself, though this information is useless without a grainy picture from a British school production to prove it. There's some sass to her feedback this week, and the designers are shocked: Kenley's flustered after Joanna feigns shock at the lack of polka-dot prints in her look and Austin is all aflutter after she describes his fabrics as "hideous fabulous — hideous right now, but you'll make them fabulous, WON'T YOU?" (no pressure, then). Worst of all, Kara — a woman seemingly on the verge of a nervous breakdown — is left teary-eyed and discombobulated after Joanna questions whether her "simple chic" aesthetic is All-Star worthy. Everyone loves Kara, though, so she gets lots of hugs from her fellow designers — well, except Mila, who's still grumbling about her and Kenley's "unnecessary and over-complimentary" love-fest. Human emotions, so overrated.
Of course, Joanna's critiques aren't nearly as pointed as those from designers in their confessionals. In another bout of heavy-handed editing from the producers, Mila and Kara's looks receive the nastiest snippets from their competition — so, yes, take a wild guess as to where the two ladies placed. Broadway star Sutton Foster is the guest judge of the episode, but proves too bashful to say much of worth. (Really, if you can't call a Project Runway designer's work "" without blushing, you should reconsider your guest spot.) By this point, it's fair to say that the judges are pretty in agreement that Austin, Michael, and Mondo are the top-notch trifecta — yes, we're calling them as the finalists now, and probably should have a while back. They're this week's top three, and Mondo takes the win for a feather-heavy jacket and multi-patterned shift dress. Austin likely lost out for getting snippy with judge Isaac after the latter mispronounced his name — but this was nowhere near the barbed confrontation the season-long promos had suggested.
And yes, it's Mila and Kara in this week's bottom two spots. Despite lauding her look this week as some of the best work she's produced in the competition, Kara's still sent home (curtains for her, so to speak). Angela's parting words to her — perhaps her version of Heidi's classic "Auf Wiedersehen"— are the very fortune-cookie-sounding "these are the things we grow from." Ponder that.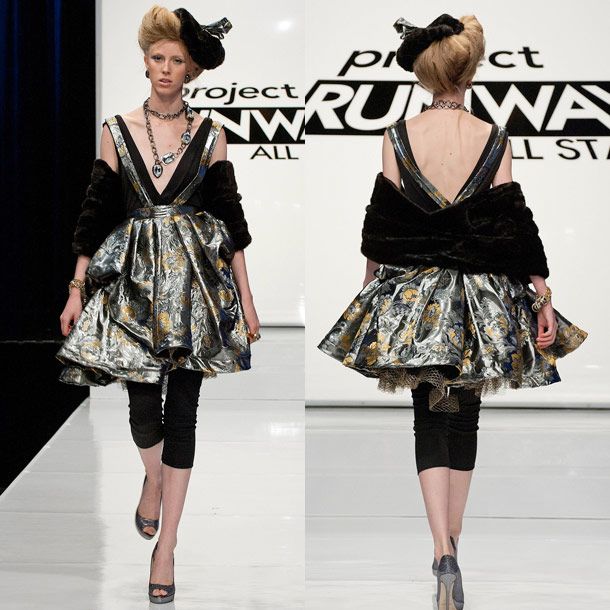 Austin Scarlett — Top Three
Who doesn't love a sassy little beret worn askew? Austin's modern take on a modern Marie Antoinette seemed like a strong contender for the win — and the layering seemed to best fit the otherwise confusing "thrifty" description thrown in the mix of the the Godspell character for which they were to design. Of course, we'd already decided Austin should win for his jazz hands alone, so his second-place finish came as a bit of a surprise. (And the steely glint in his eye suggested that he is getting mighty sick of being the bridesmaid to Mondo/Michael's bride from week-to-week.)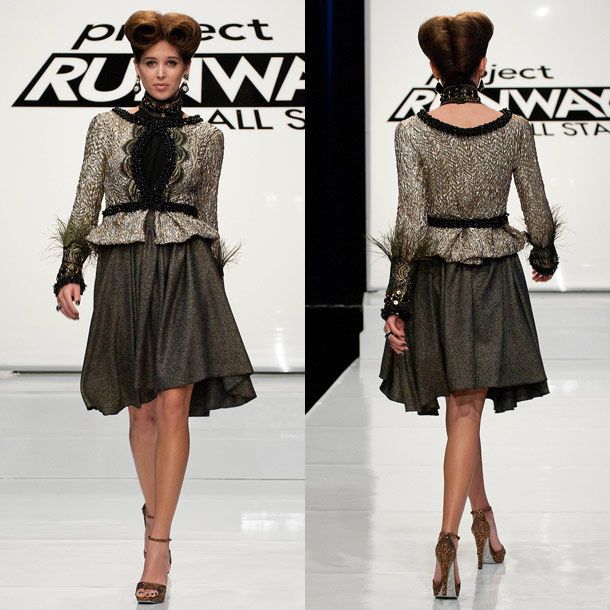 Jerell Scott
When Jerell, of all people, produces one of the least theatrical looks on the runway, you just know all bets are off.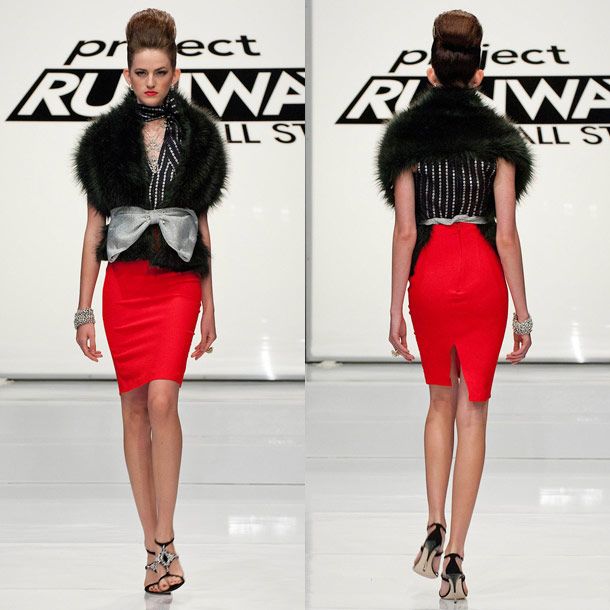 Kara Janx — Auf'ed
Kara clearly forgot to buckle up and prep for the emotional rollercoaster ride of doing this show again, but her raw honesty and good humor were always fun to watch. It's just a shame there was no such humor apparent in this look, which, sadly, seemed like the obvious loser from early on in the episode — with the exception of the foxy fur stole, it's just not glamorous enough by half. And so it begs the question: if all her fellow designers liked Kara so much, why did no one clue her in on the fact that she really needed to up the glitz factor?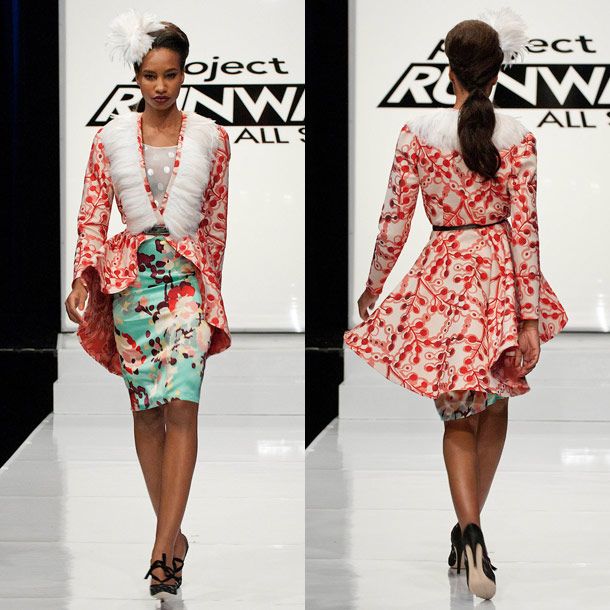 Kenley Collins — Bottom Three
Obviously Kenley just couldn't help herself and threw some polka dots (white ones, on the bodice) into the mix after all. Perhaps this was just to be like, "Oh, no you didn't, Joanna Coles" — we certainly hope so because, again, we want more histrionics from Kenley Collins. For old time's sake if nothing more. Please Kenley? You're less exciting when you ain't misbehaving. The prints here read too modern, and the feathers read a tad too cheap, but we felt Isaac labelling it worthy of an "East Village doorway" was rather harsh.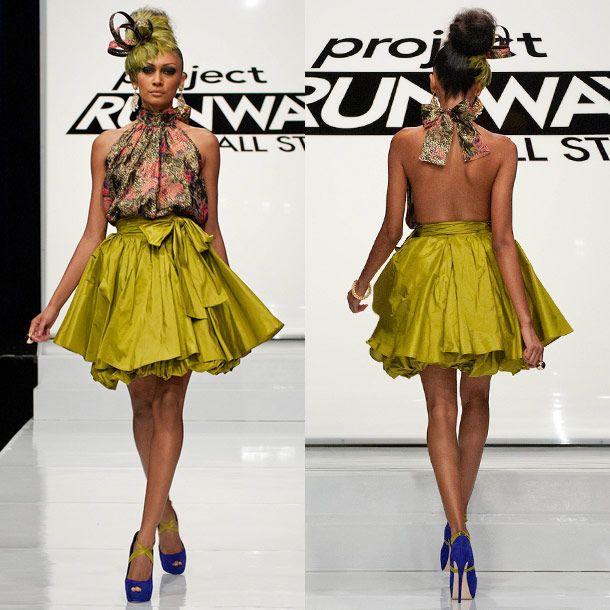 Michael Costello — Top Three
Here is an example of how to take a nasty-looking green fabric and make it look quite sophisticated — in an ostentatious, trying-too-hard kind of way that, again, fits the character at hand. Also, Michael's use of what appears to be one of Donald Trump's old toupees dyed an off-lime-green color as a fascinator is either a very clever appropriation of megalomaniacal excess, or just an awkward coincidence.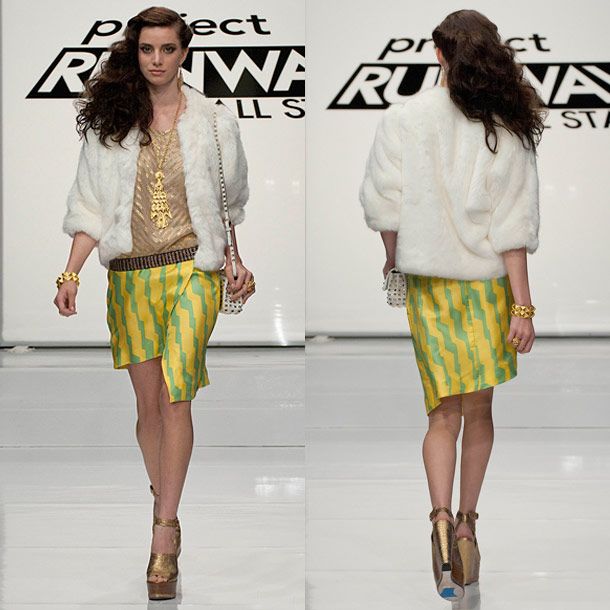 Mila Hermanovski — Bottom Three
And here is an example of how to take a nasty-looking green fabric and make it look quite unsophisticated — in an ostentatious, trying-too-hard kind of way. As Jerell noted, this is a girl who couldn't get into the club no matter how many lines she offers to share with the doorman.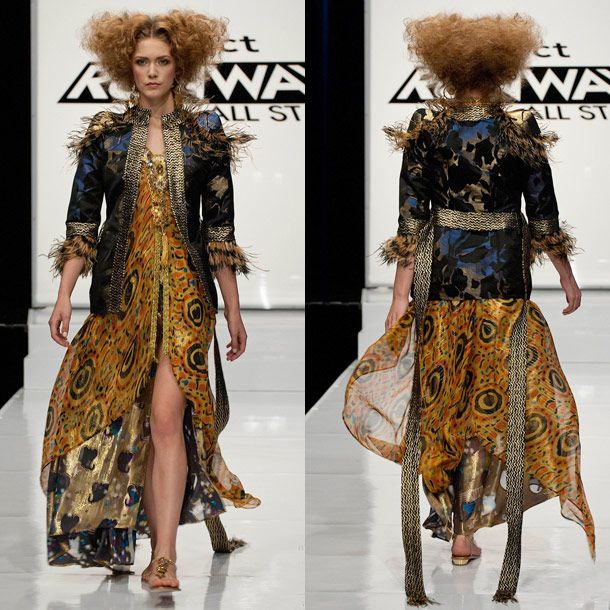 Mondo Guerra — Winner
Well, there's just so much going on here that there's nothing to be said.