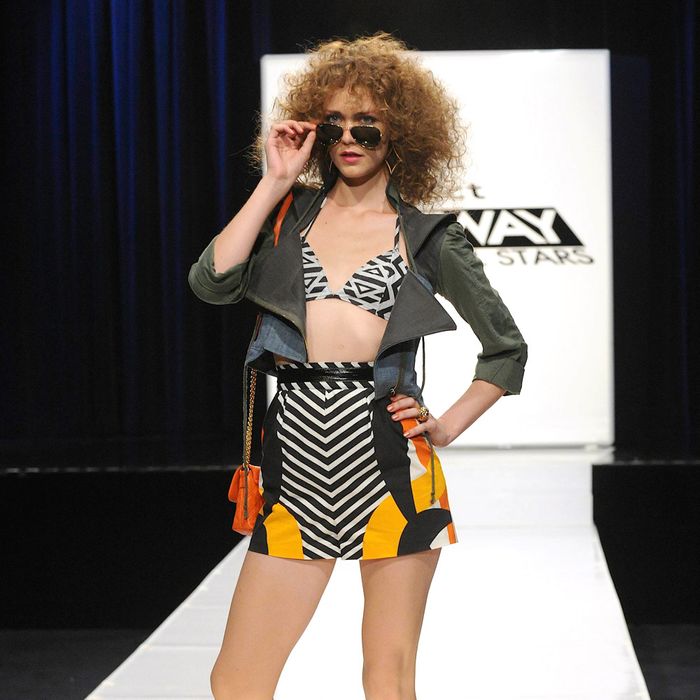 Mondo's winning look.
Photo: David M. Russell/Lifetime
This week's episode starts with host Angela getting the designers together in Central Park to reveal their new challenge: finding a muse among the many parkgoers, and then creating a "fashion forward" look inspired by them. There's a very clever catch, as is the Runway way: These muses must be convinced to give up (some of) the clothes they're wearing to be used as raw materials for this week's designs. More specifically, at least 50 percent of each designer's new look must come from muse-sourced, pre-worn garments. (Their $150 budget can be used, in part, to help bribe would-be muses into participating, but must also cover their Mood purchases.) Angela gives them 30 minutes to find their new muse, but presumably none of them could — let's blame tourists, like always — because the next thing you know, they're in Union Square.
Most of the designers realize quickly that they'll need to stretch the criteria of "muse" to mean more along the lines of "willing to take part; not wearing velour," and they all finally manage to find subjects in their time frame. (One crazy old man offers to undress for Jerell, just because.) Michael picks up crochet knits, Austin lands fingerless leather gloves (with studs!) and Anthony collects a thrift store's worth of offerings and revels in getting hot guys undressed. More power to him, really, because who didn't lose their train of thought when poor, confused foreigner Diego removed his shirt? And more power to Austin, who may have even gotten the hottie's phone number.
As the the designers were given a whole two days for this challenge, they all have pretty realized looks by the time Joanna Coles comes around for critiques. (Also, it seems Joanna has finally found her mentor style — a dose of Tim Gunn's design-minded questioning mixed with a more personal approach that seems to really resonate). But she's concerned with many outfits this week: Jerell's forever-mismatched prints, Michael's draped doilies, and Anthony's complete lack of direction. After his crit, Michael puts his faster-than-light-speed sewing skills to work and starts his look over from scratch; Anthony starts over (and over), too, but with much less of a plan in mind. Clearly someone (else) can't get that tanned, bulging six-pack off their mind.
Next, we're treated to a fun little montage of Kenley being obnoxious, which suggests that she could be a diva again after all, if only the show's editors would let her. She also causes a bit of a workroom uproar when she finishes Kara's pants — Michael and Mila are especially outraged, though they keep their bitching session private. Then it's off to the runway. 
This week, hockey player and former Vogue intern Sean Avery — decked out in cherry-tinted glasses — joins the judging panel, making maximum use of his chair by sitting with his legs splayed so wide it looks like he's prepping to give birth (that's sporty alpha-male dominance for you). He goes on to offer laid-back criticisms and nonsensical witticisms. ("Lady Gaga and Gwen Stefani on acid at Burning Man" … say what?) Earlier, the ladies had acknowledged it's been a bad run for them in the challenges so far, but this time all three of the remaining females are deemed safe. While this makes five weeks in a row in which a man has won the challenge, it also means the first male elimination of the season.
It turns out Joanna's prediction that Mondo would dominate this challenge, given his street-style-friendly sensibility, comes true: He beats out Austin for the win with an outfit the judges literally criticize for being too chic. The bottom two dishonors go to Michael (on quite the comedown from his back-to-back wins) and Anthony. In the end, Anthony is auf'ed for not meeting the challenge's requirements — his look didn't reflected his quirky flower-selling muse, nor was it constructed out of the requisite half's worth of fabric sourced from people in the park. While Michael cried and gasped and made a scene in another bout of forced theatrics, Anthony took the elimination with aplomb. He was wearing nice shoes, you see — velvet loafers can make even the toughest break feel just fine.
Added bonus: the best of Sean Avery on the judging panel last night!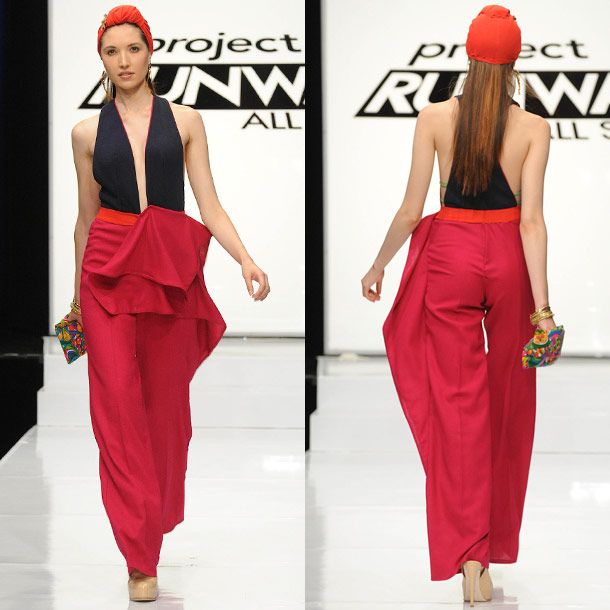 Anthony Williams — Out
Anthony's boy-crazy tactics in the park left him flustered and unfocused. He managed to pull together a classy, retro jumpsuit on what seemed like very short notice, and the judges all liked it … but cut him on the technicality that he did not use at least 50 percent found fabric in his look. What is this, Project Math Class all of a sudden?!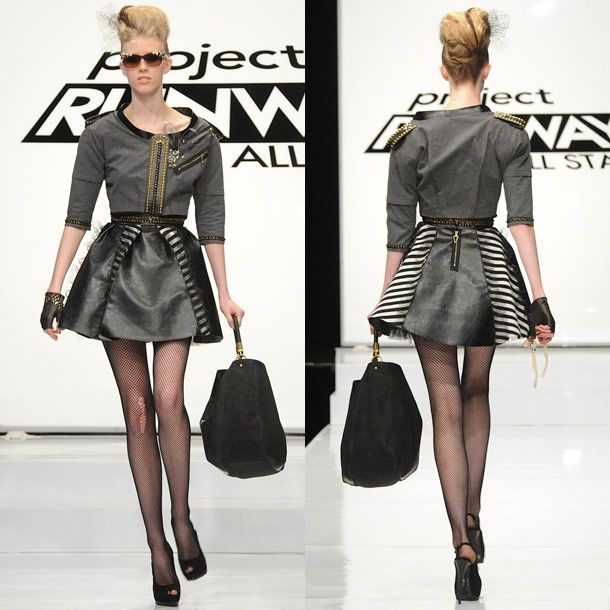 Austin Scarlett — Top Three
Dare we say Austin Scarlett had an advantage this week, because who could say no to undressing for a man as dapper as he? This look may have been overdesigned, but the craftsmanship and perfect balance of its proportions rightfully propelled it into a top scoring spot. We just think the "baddest bitch on the block," as he puts it, wouldn't go out wearing something so clearly well-thought-out.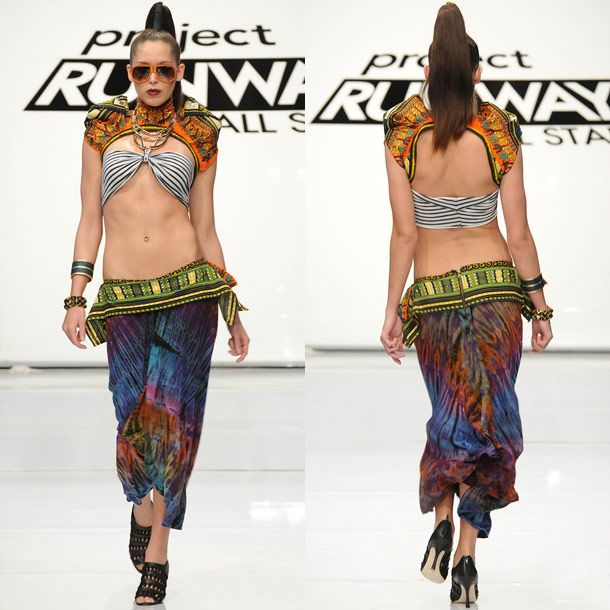 Jerell Scott — Bottom Three
Isaac Mizrahi needs to start penning his apology note to the Lion King musical's costume department — because even deliberately theatrical costumes don't deserve a comparison to this hodgy-podgy battle of the bold prints. (Anthony might also want to send a "soz Jerell" text message, because calling the outfit one of the "most tasteless looks" he's ever seen was also quite harsh.) It's often true that less is more, except here that translated into "very little fabric says much too much." We can't deny that Jerell has an aesthetic, but we can't deny that it's a headache-inducing one either.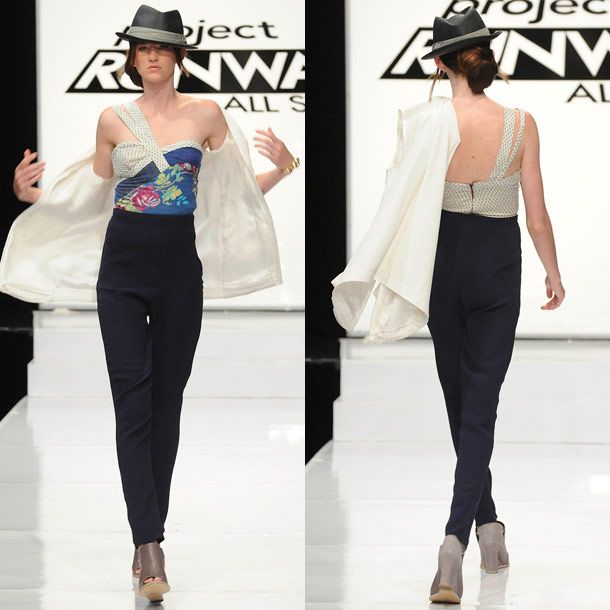 Kara Janx
Kara probably shouldn't need all the help she's been getting from her fellow designers in recent weeks, but it's to her credit that they all like her enough to step up. (Either that or she's still threatening to cut peoples' unmentionables off.) Narrowly beaten to this week's award for Best Bad Hat, Kara's outfit otherwise offered a twee, Urban Outfitters-esque take on dressing.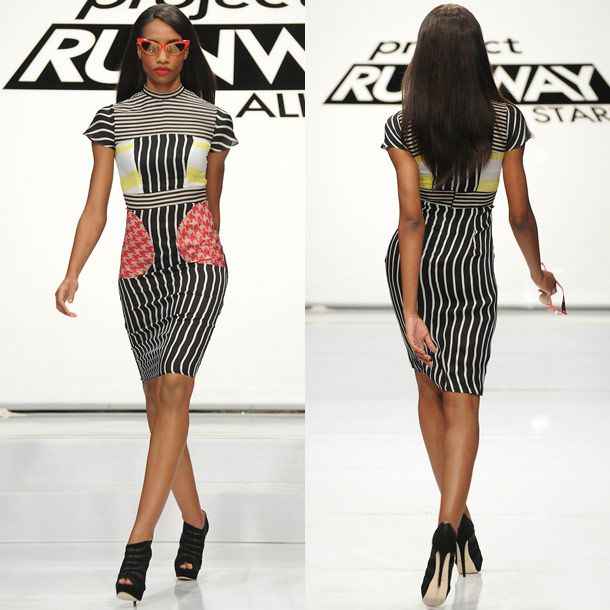 Kenley Collins
Kenley came up with this interesting mix of stripes and houndstooth, which actually felt a bit Mondo. Cute color-blocking, clashing prints made wearable — we felt Kenley got short-shafted again. The judges must be doing it on purpose to bring on a big ol' tantrum, surely?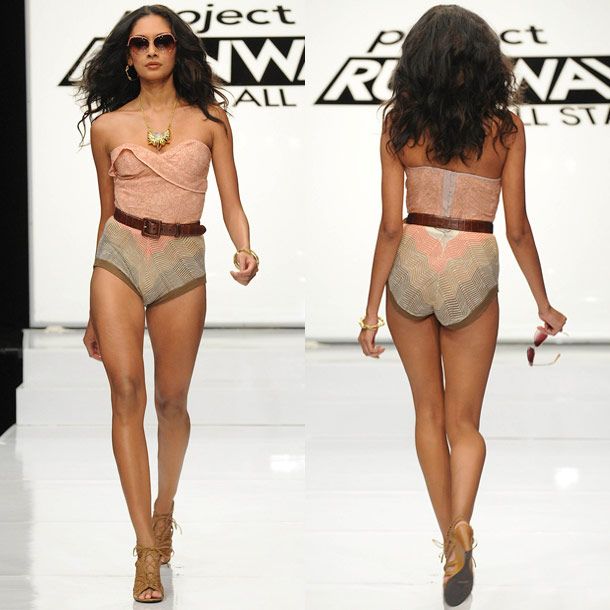 Michael Costello — Bottom Three
If there's one thing Runway judges will always hate on, it's a poorly constructed top that makes a woman's boobs look unsupported. And if there's another, it's any exposed butt cheeks flapping around, however pert the cheeks in question may be. Despite another really neat balance of prints and textured fabrics, Michael's whizz-it-up-quickly-and-see approach didn't pay dividends this week, and maybe should have sent him home — or at least down to Miami, where this sort of look would fly.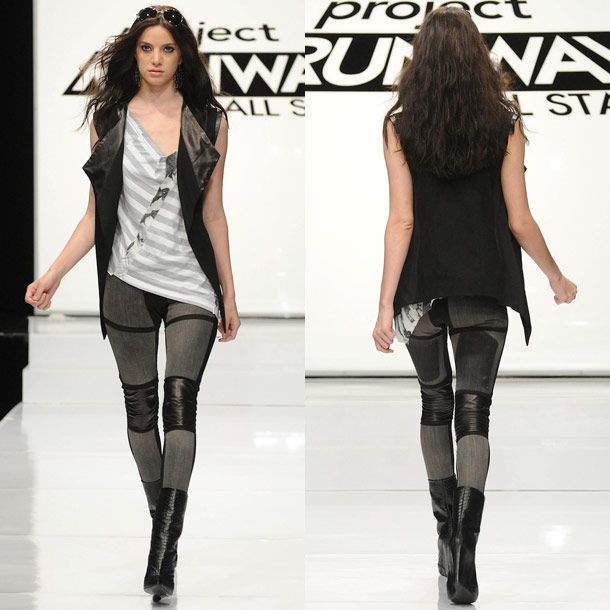 Mila Hermanovski
Oh well — after last week's refreshing blast of actual color, it's back to the monochromatic Mila we know and remain rather ambivalent about. We'll give her the great pants, but haven't we seen this look's separates from her before?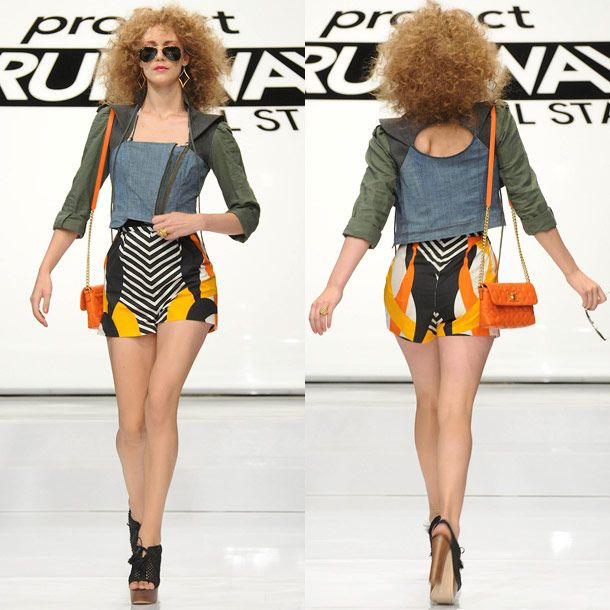 Mondo Guerra — Winner
Perhaps for the first time this season, Mondo brought the best of what so many grew to love about his season eight aesthetic to the cutting table. Whereas all the effort that went into, say, Austin's garment looked overworked, the intricacies of Mondo's design (22 panels in that cropped denim jacket!) read as just the right amount of under-done and understated cool.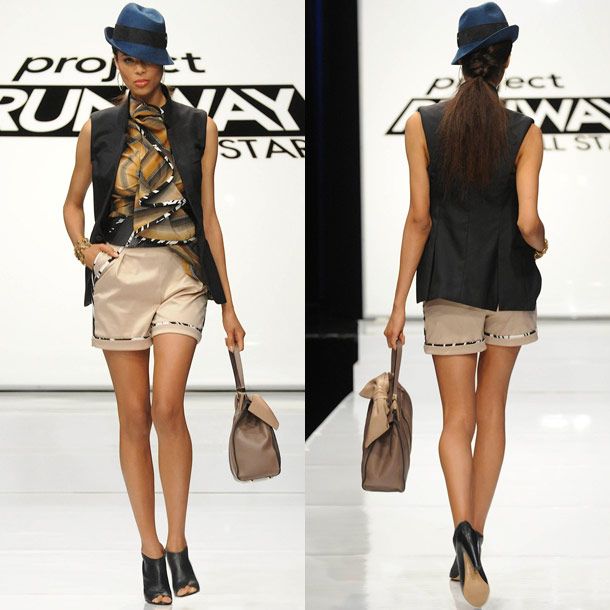 Rami Kashou — Top Three
Oh yes, here's the winner of this week's Bad Hat Award. The judges all loved Rami's tailored take on men's business attire, with its ruffles, suiting, and delicate piping. But the color palette and print of this blouse couldn't have been less appealing — and we were left wondering why, if Angela wanted to see more women styled like this in the office, she didn't just take a time machine back to an early-eighties typing pool. (Though granted, in that instance there'd be less hot pants and more pleated knee-length skirts.)