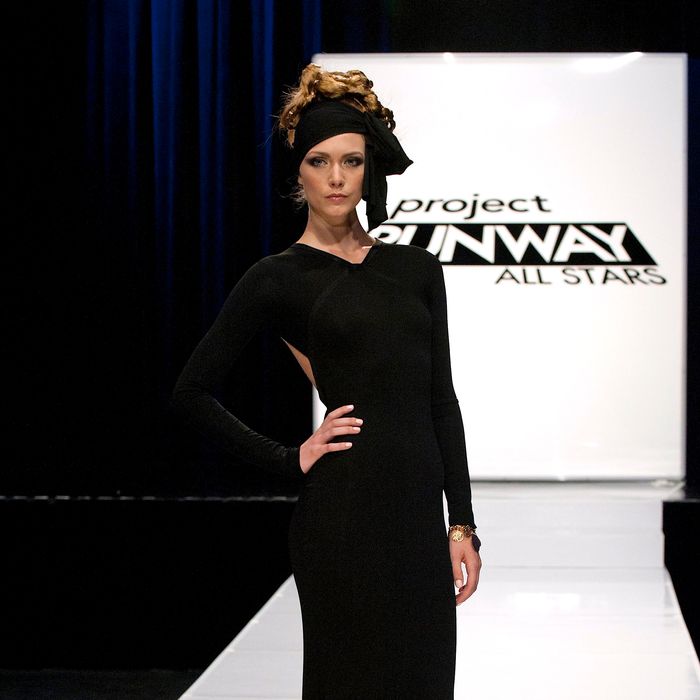 The season's theme of opening field trips with little consequence continues this week — Angela meets the designers at the United Nations to shout out their new challenge rather loudly (thanks, FDR traffic). They're designing gowns — as usual — inspired by six different U.N. member counties' flags and cultures. The global lineup: Chile, Greece, India, Jamaica, Papua New Guinea, and the Seychelles. Each designer picks a flag, sketches a bit, runs around Mood, and gets down to work. Perhaps the final six are just too schooled in good Runway behavior, but these early episode segments are feeling a little formulaic.
It quickly becomes clear that the designers are bending the challenge's constraints to fit their nicely pigeonholed aesthetics, and not the other way around — again, as usual. This is a shame. Michael's draping, Mila's cutting clean lines, Kenley's turning the Chilean flag's pattern into something appropriate for a fifties diner date , and Jerell's embellishing like it's his last chance ever (spoiler: it's not, though perhaps unjustifiably). On her visit to the workroom, Joanna Coles tries to shake the designers  out of their boxes, but it just isn't happening. Instead, she's left lamenting gowns' impracticalities — they can't be worn with bras, or as becomes apparent in one case, panties either.
There's the usual montage of designers complaining they're running out of time before a quick runway presentation. As usual (again!), while the looks are walking, the designers' voice-overs give too much away. Austin is afraid the judges will critique his hurried draping (they do); whereas Mila isn't worried because she never shows emotion.  She does, however, robotically relate a belief the judges are confused by her design (they are). Catherine Malandrino and her wonderfully thick French accent join the panel. It's not her first time on the show, and this time she's showing a gentler side. Serious Runway fans will remember her cameo on season three, when the designers flew briefly to France only for Catherine to gleefully eliminate poor Angela "Jubilee Jumbles" Keslar, and send her straight back home in her rosette-covered calf-length travel pants.
Mondo wins (probably not for the last time this season) for an understated black jersey dress, with Kenley and Michael — whose stubble-and-messy-bedhead combo looked good on the runway — rounding out the top three. Austin (having never recovered from learning the tongue twister refers to someone selling shells on the sea shore, not at/on the Seychelles) gets another pass despite his messy draping. This leaves Jerell and Mila in the bottom two. Both have been there before. This time Mila's repeat poor performance proves her undoing. Her two-tone, two-length dress leaves the judges too confused to even get snarky. And that's just unforgivable.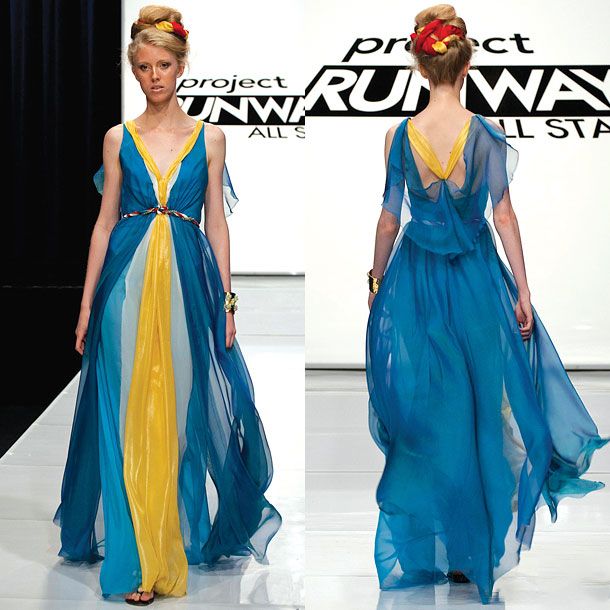 Austin Scarlett — Bottom Three
The beachiest part of this look is what appears to be Austin's model's mild case of facial sunburn. It's also worth noting this look's more-than-passing resemblance to the Grammys dress design (for ET reporter Nancy O'Dell, remember her?) that saw him eliminated back in season one. If anything, this second attempt proved less successful; Austin really tempted fate — and likely the producers' desire for then-now parallelism.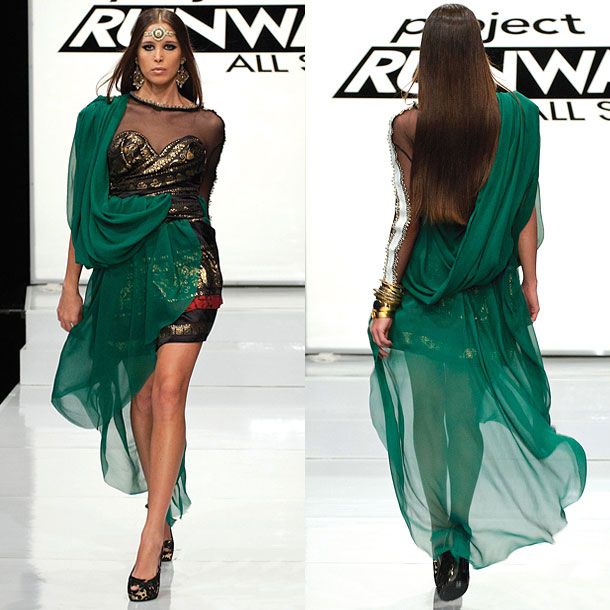 Jerell Scott — Bottom Three
Clearly, this is a design overembellished to past the point at which any metaphors or criticism not related to some wild (and likely racy) Bollywood movie costume are relevant. But were that not the case, there'd be a story about a guidette's night out starting in a reasonably respectable manner, but getting messier after a drunken stumble into some cheap Jersey nightclub's emerald drapes. If for nothing else, how to explain what seem to be shiny gold leopard-print pumps?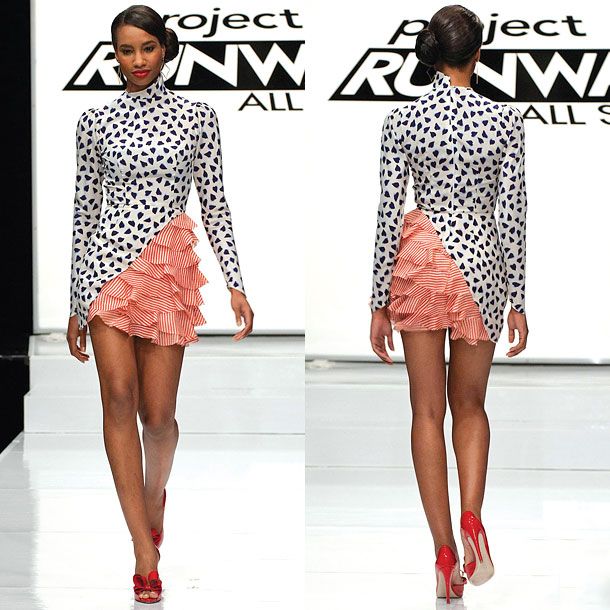 Kenley Collins — Top Three
To summarize the panel's commentary on this look: Yes Kenley, we love this and it's almost worthy of the win, but no Kenley, don't do this again because you're too one-note. Funnily enough, it's both contradictory and fair, because such is the mad world of Runway judging.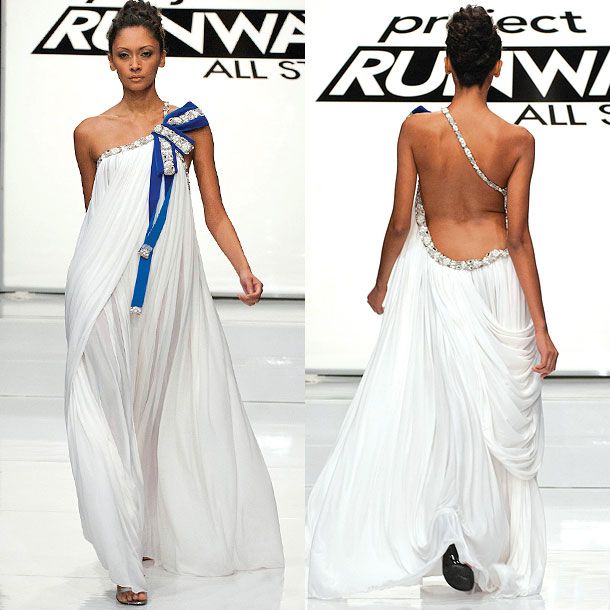 Michael Costello — Top Three
The only reason this couldn't be a pageant dress is because beauty queens always get in trouble when they're caught not wearing any underwear. While elegantly draped, this gown's arguably also worthy of the "national costume" line of criticism Jerell's design got hammered for — but, second only to his BFF, Mondo, Michael's cemented himself as quite the judges' pet.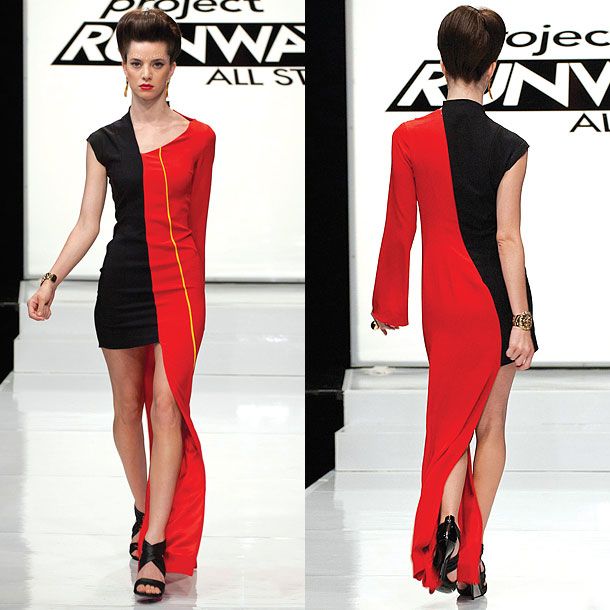 Mila Hermanovski — Auf'ed
Isaac claiming this look reminded him of communist Russia couldn't be more wrong — the gown's two sides aren't equal at all. However, Isaac claiming it's "disturbing to look at," well, that's closer to the mark.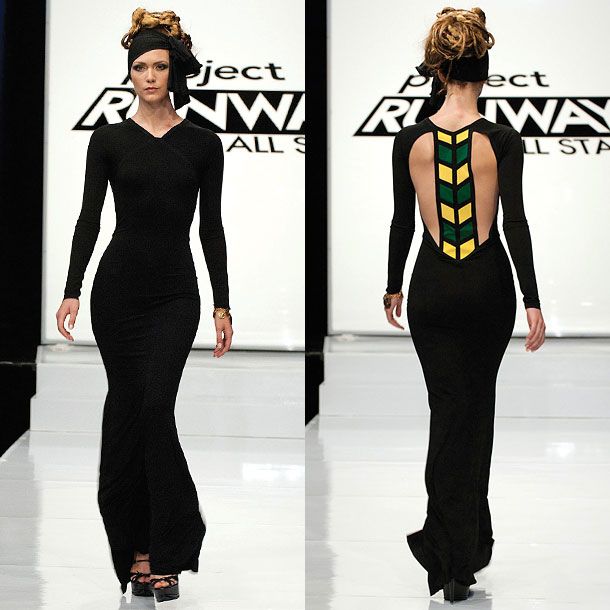 Mondo Guerra — Winner
However well-cut, should what's essentially a LBD with a chevron in the back really be winning challenges at the final-six stage of Project Runway's all-star season? Perhaps also questionable: giving a white model faux-dreadlocks to try and better represent Jamaican culture.