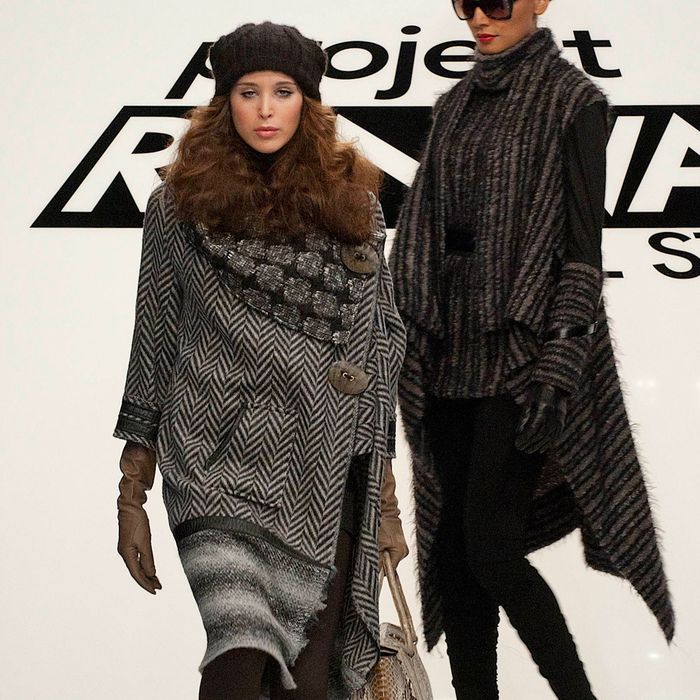 Weighed down by eight tacky-looking weekend bags, Angela explains that this week's challenge is to make activewear for a client who is off doing something (anything), somewhere (anywhere), on the weekend (any weekend or occasion, really). Such vague challenges always produce maddening results because the designers inevitably develop looks with very different goals in mind, and then the judges never keep their critiques consistent.
After each designer picks a bag, they realize they're actually not important at all, but the luggage tags inside are: They reveal that the contestants will be matched up to compete against each other in four "fashion face-offs," with each duo making a look appropriate for a particular season. In other words, the producers need more conflict, and constructs like this usually provoke some good old back-biting and the odd tear here and there. But this season, the all-stars still want to play nice, at least outside the confessional booth.
One person from each pairing (Austin vs. Kara for spring, Kenley vs. Mondo for summer, Mila vs. Rami for fall, and Jerell vs. Michael for winter) will receive a high score, the other, a low score. Kara and Austin briefly try to psych each other out, and Mondo and Kenley joke around in that not-actually-joking way once they realize they've both bought polka-dot prints. But this week all the workroom drama comes from Michael and Jerell. And really, just from Michael — because after his first few design ideas fall flat, he decides to flat-out copy Jerell's chunky cowl-neck coat.
Needless to say, this doesn't go down well, and the tension between the pair soon grows thick enough that Joanna Coles, during her critiques, calls a "group meeting" to discuss the not-so-veiled allegations that plagiarism is at work. She gently questions Michael's conduct, which spurs some interesting discussion among the designers, though most of their perspectives seems drawn along the workroom cliques' lines. Later, over dinner, Michael and Jerell bicker some more — mid-mouthful even. Michael's particularly annoyed he had to defend his ethics to Joanna — though he'll now have to defend the terrible British accent he put on, too. (In other Michael news, did his eyebrows suddenly get extra-sculpted? After taking his model to hair and makeup, they appeared almost triangular. Perhaps he took some of his frustration out with tweezers.)
There's a neat little twist on the runway, with each pair of seasonal looks walking out together before getting their individual turns. The comparative process certainly helps the judges critique the designers' work against each other with abandon — the harshest comments coming from this week's guest judge Cynthia Rowley, who seemed much meaner here than on 24 Hour Catwalk. Jerell wins, as his aesthetic lent itself perfectly to the challenge. And in an auf'ing coming out of the far left field, Rami is eliminated for a sick (in the bad sense of the word, sadly) lime-green blouse that belied the otherwise beautiful draping.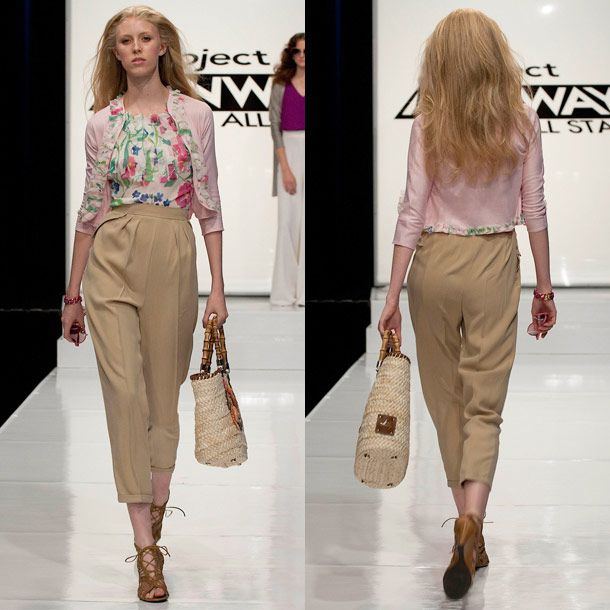 Austin Scarlett — Bottom Two
However great Austin's high-waisted khaki pants were, snark-master Jerell summed this look up just perfectly when he labelled it Golden Girls–worthy. And yes, Rose Nylund would wear this for a day's volunteering at the grief counseling center for sure. But let's not pretend Austin Scarlett is getting anything less than a finalist's spot this season, so this bottom-two spot was likely just an attempt to shake some better styling sense into him.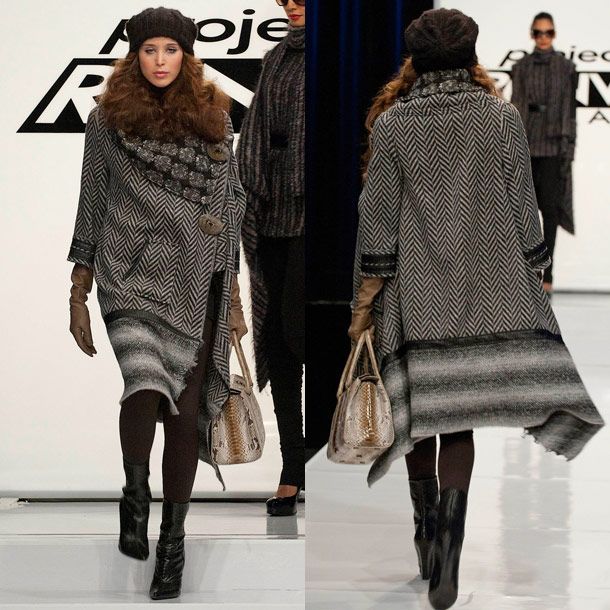 Jerell Scott — Winner
Having been less than complimentary about much of Jerell's work this season, we've got nothing but praise for his wintry look this week — the perfect balance of layered pieces and prints. (Though like Isaac, we thought the buttons were a bit too much.) Having also been less than complimentary about Jerell's attitude at times, we felt he handled Michael's copy-cat antics appropriately — needling here and there to knock his competitor off-balance, but keeping things dignified for the judges … who of course drew their own, in this case correct, conclusions.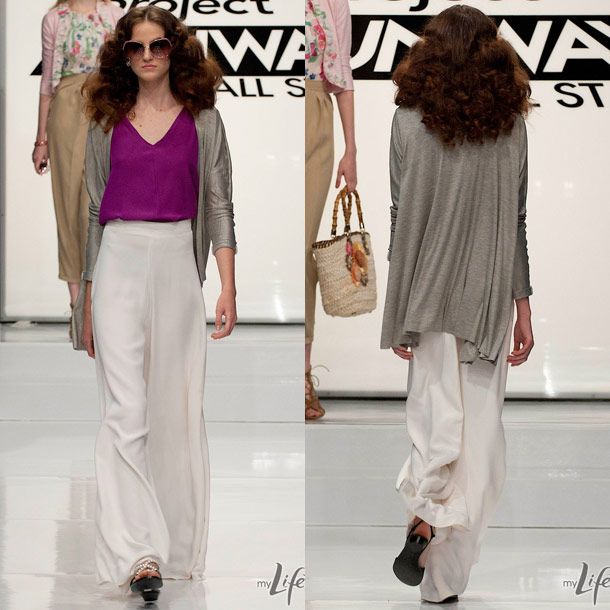 Kara Janx — Top Four
Kara took a detour from activewear into the dubious realm of loungwear, with comfort and ease trumping any sense of design. Sure, for a lazy weekend at the beach house that's not inappropriate — but just like her presumed client after a few mid-afternoon glasses of a vintage rosé, this look left the judges wanting a nap.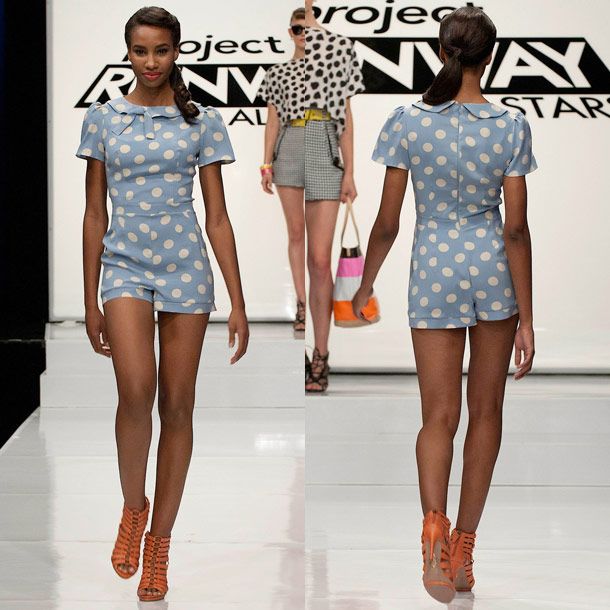 Kenley Collins — Top Two
We know Kenley can make very nice retro-tinged clothes — in this instance a lovely little romper. But like the judges, and indeed many of her fellow contestants, we're waiting a little impatiently for something more.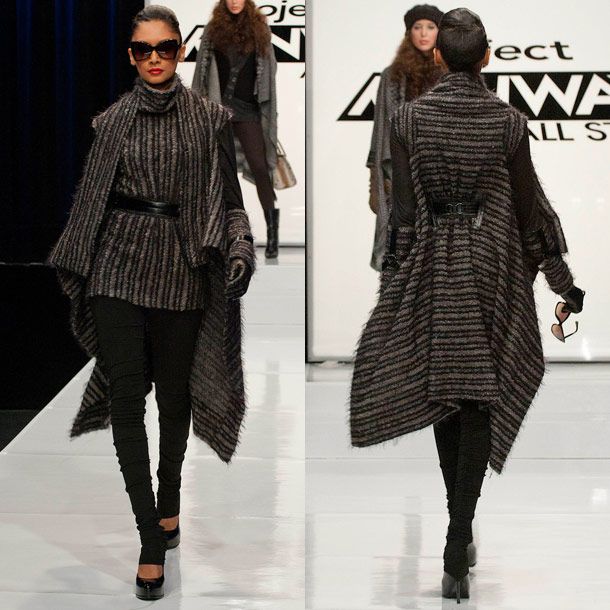 Michael Costello — Bottom Four
This week's episode saw Michael making plenty of missteps, culminating in his model making missteps of her own (of course, thanks to Michael's styling — or Mondo's styling, as prescribed to Michael) in a pair of cheap, discordant black pumps. "Nasty," said Isaac, and we agree. His shaggy striped fabric seemed better suited for a throw or a blanket in a cozy Maine cabin circa deep mid-winter (the right season, at least). But of course Michael's technical skills dressed it up well enough that the judges found few faults. Indeed, had it not been for the top/bottom rule set for each pair, he probably would have stolen Kara's spot in the top four — despite those shoes.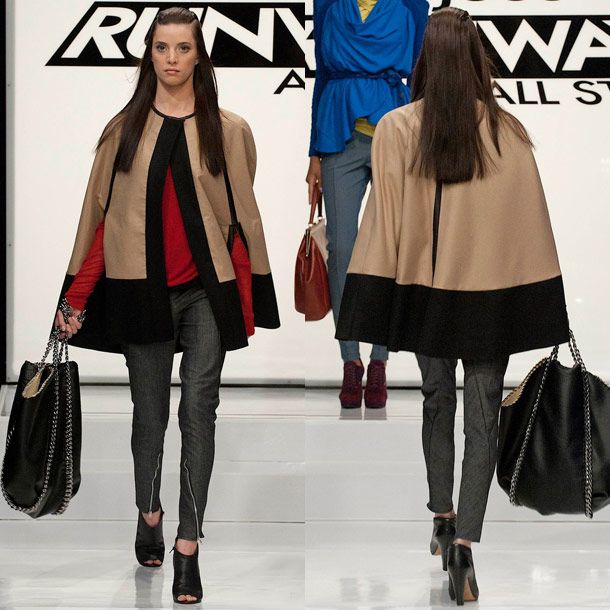 Mila Hermanovski — Top Four
Mila does Mila; Mila remains in the middle of the pack. We get the impression the judges all say nice things about her looks each week, but have totally forgotten them by the next time around. That's, of course, save for her now-signature skinny jeans. (Still, not skinny enough for Georgina's liking — but a worthwhile critique for the phrase "apologetic zippers" alone.)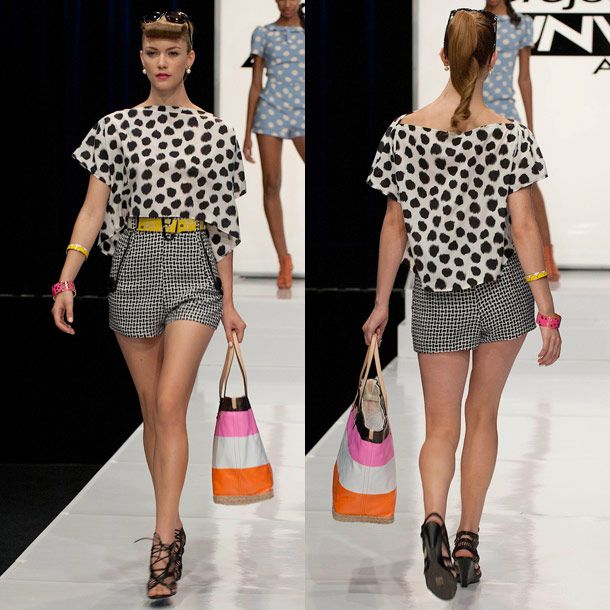 Mondo Guerra — Bottom Four
This was a very "season 8" Mondo look, which provided a very succinct illustration of the difference between the show's regular judging panel and its All-Star lineup. Heidi, Michael, and Nina loved Mondo's quirky, monochromatic plays with prints, but Isaac, Georgina, and Angela (and Cynthia very much so) all seemed a bit confused. Isaac even compared it to kids' clothes. Since he designed it as a tribute to his mom's birthday (aaw!), Mondo got tearful at the critiques. Brilliantly, Kenley tried to comfort him backstage not with hugs and platitudes, but with a delightful reminder that the judges thought Austin's look was worse still … while Austin sat there, stone-faced.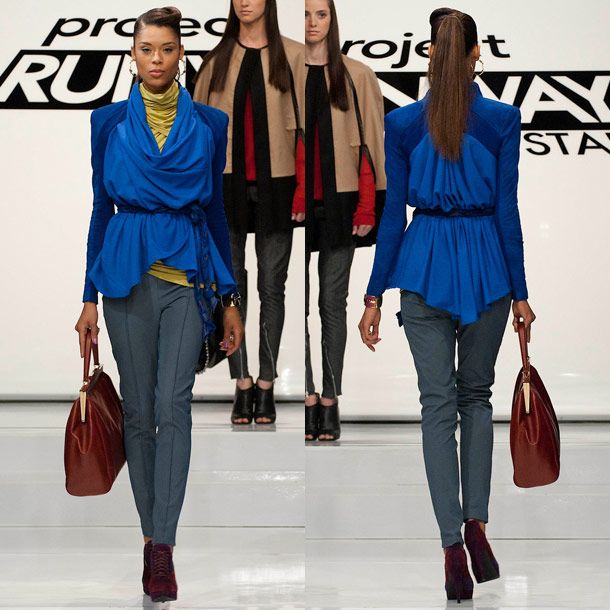 Rami Kashou — Auf'ed
It felt like we barely had time to prepare for Rami's sad, untimely exit last night. Perhaps we should have seen it coming though — could that shade of green, ruched up and wrinkly, have been any less appealing? Even just peeking out at the neckline, it's enough to ruin the otherwise beautiful blue draped jacket. Poor Rami only got to get his drape on  once, and look where it got him.