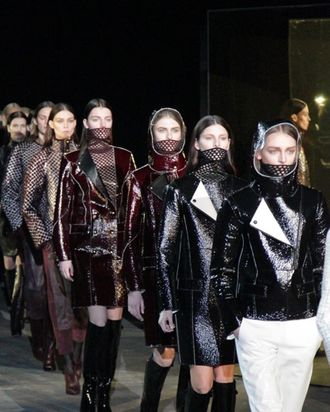 Alexander Wang, fall 2012.
If you, like me, weren't invited to the Alexander Wang show, it doesn't matter: you'll get a better view than the z-row seat or standing spot you would have been ceremoniously rewarded on this website, which hosts the livestream. The show has become such a frenzied fuss that getting a seat is about as great as getting a ticket to the Willy Wonka factory, and if you get a seat, getting a good one is unlikely, unless you're one of The Most Important Fashion People Ever (I have seen Elle's Kate Lanphear get a second-row seat at that show). Anyway, what was La Wang up to this season, with his clothing? The real reason everyone's supposed to go out of their way for his show?
Black. A lot of black. Also, knee-high boots, puffy vests, and a plethora of pieces that looked to have been made from rain-slicker material. Instead of side-slits the skirts have front slits — a dubious trend since who wants to show off their inner thighs and knees? And can you sit down without flashing your panties? They're problematic, design-wise and life-wise. Many of the tops, jackets, and coats were boxy, yet he did offer some fun motorcycle ones to go with those helmets he has the models carry down the runway last season. And in case you haven't noticed enough sadomasochistic touches on the runways yet, he made sure the models' mouths were sealed shut with mesh turtlenecks.
The highlight of the show was probably the cast, supermodels like Shalom Harlow and Gisele Budchen that apparently caused the crowd to burst into applause and cheers. But, how can we be sure it was those women who caused the celebration, and not audience members catching their reflection in the mirrors on the runway when the light was just right?