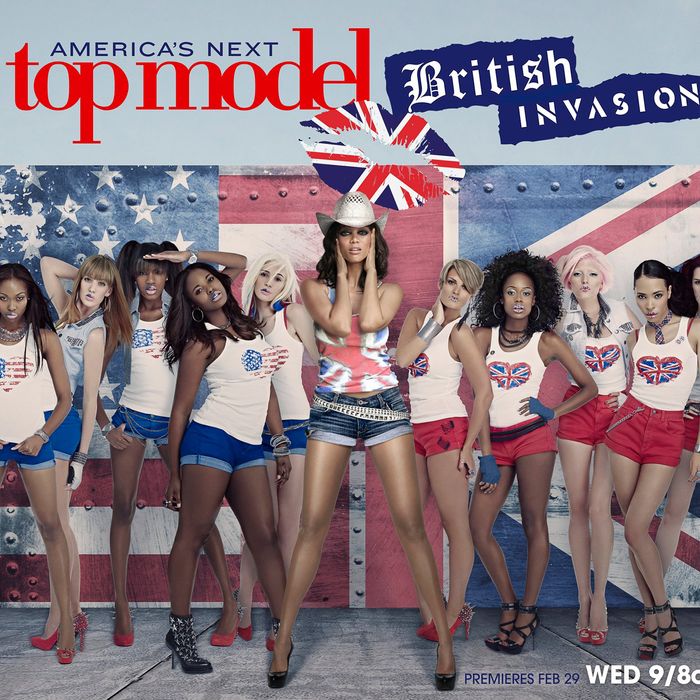 Here's the cast of America's Next Top Model's eighteenth cycle (yes, the show is now as old, in series, as some of its participants), which premieres next Wednesday. Tyra Banks confirmed last year that there'd be no more "normal" editions of the show — not that Top Model has ever been "normal," of course — and so this season is billed as a "British Invasion." As reported back in October, this means there are seven American models, and seven British ones. From left to right, the giddy hopefuls are, from the U.S.: AzMarie, Mariah, Candace, Kyle, Eboni, Seymone, Laura; and from the U.K.: Louise, Annaliese, Sophie, Jasmia, Catherine, Ashley, Alisha.
The seven Brits are all veterans of the Top Model franchise, having appeared on the show's British edition. (Any particularly patriotic Americans concerned this gives the Brits an advantage in the competition needn't worry — they were all pretty terrible.) As we know, Kelly Cutrone takes André Leon Talley's spot on judging panel alongside Tyra and Nigel Barker; guest judges will include Marchesa's Georgina Chapman, R&B singer Estelle, and, sigh, Kris Jenner. Somehow, the show retains its partnership with Italian Vogue — an editorial in the fashion magazine remains one of this cycle's prizes, alongside the requisite CoverGirl campaign and deals to front both a new Top Model perfume and release a single. While the prospect of making the would-be models embrace their musical side might seem unusual, last season's "All Stars" produced tracks that, while auto-tuned to T-Pain levels, weren't that bad. (See: Dominique's "On Top of the World" — it's still dance-worthy.)
Watch the show's first teaser below, with hats, British girls getting sassy, and what appears to be a model (jumping on a trampoline) dressed up as Margaret Thatcher. There's bound to be a reenactment of the Boston Tea Party too — heft those caddies overboard fiercely, girls.