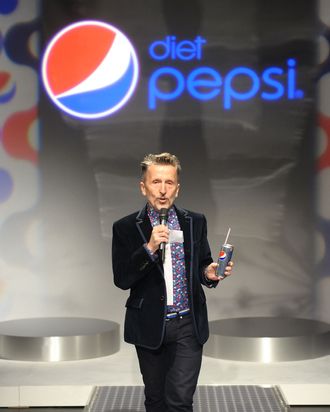 Simon Doonan attends Diet Pepsi Style Studio fashion Show Presented By Simon Doonan at Lincoln Center on February 9, 2012 in New York City.
Photo: Gustavo Caballero/Getty Images
Last night, Simon Doonan took a break from his whirlwind book tour to present the Diet Pepsi Style Studio Fashion Show at The Box at Lincoln Center. He told us that he's been worried more conservative types might judge the book by its cover — literally, since the title is Gay Men Don't Get Fat.
"I'm not stupid," he said. "I'm not going anywhere homophobic with this book. Are you raving mad? One doesn't title a book Gay Men Don't Get Fat and charge off to a place where everyone's drinking Mountain Dew. No offense to Mountain Dew."
Doonan also weighed in on Karl Lagerfeld's comment that Adele is "a little too fat," saying, "I'm sure he didn't mean it in any kind of malicious way. God knows with the Internet, these things get picked up and magnified."
Also in attendance was his dutiful husband Jonathan Adler, a fashion presence in his own right, who weighed in on the Adele situation as well.
"You know what — he's who I look to for totally bananas comments. He's Karl Lagerfeld—he should make totally outré comments. That's what he's there for."
When we pushed Adler a little farther, he 'fessed up.
"I think, honestly, it's a silly and ridiculous thing to say." He added, "Here's the difference—she's young and happening, and… he's…"
At this, Adler trailed off. Did he want to say Adele's a hot young thing and Karl's old news? Oh snap.