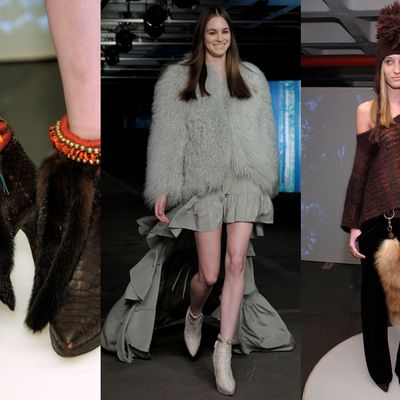 Looks from Skaist-Taylor's fall 2012 collection.
Skaist-Taylor, the brand-new label birthed by Juicy Couture co-founders Pamela Skaist-Levy and Gela Nash-Taylor, had its first-ever presentation today in the garage beneath Lincoln Center. The collection was titled "Because the Sky Is Blue," which seemed like as good a reason as any for Skaist-Levy and Nash-Taylor to revive their design careers. The space looked nothing like a parking lot: the asphalt floor was populated with enormous cubes that served as projector screens for images of a lush green forest. Occasionally, the leafy scenes would also depict a model fondling a tree trunk while her long hair extensions billowed in the wind.
Rather than standing around like models usually do at presentations, the Skaist-Taylor models (not the ones in the cube-forest) took turns walking in an L-shaped pattern, clambering onto several raised circular platforms to pose for pictures before they disappeared into a dressing area and then repeated the exercise. Whoever choreographed the platform idea clearly hadn't taken the models' sharp-heeled ankle boots and precariously short skirts into consideration. Also potentially problematic were the trailing mullet skirts with ruffled hems that practically begged to get tangled on a stiletto.

The main theme of the collection appeared to be tails. It seemed that almost every outfit incorporated some sort of long, loose appendage, be it furry or not. Many of the dresses, made of loose, sheer chiffon-like material, had some sort of sash or strap trailing behind them; the furry vests, coats, and cover-ups often had a tail-like component. And just to maximize available tail-sprouting areas, there were tail-belts and socks trimmed with ankle-tails as well.

Near the end of the presentation, a commotion broke out at one end of the runway, and the crowd of attendees suddenly abandoned all pretense of watching the models and hustled over to see what was up. Amidst a cluster of blonde hair, fur, and several publicists wearing studded leather jackets emblazoned with the words "PAM & GELA," we spotted Rachel Zoe, who was congratulating Skaist-Levy and Nash-Taylor (who suddenly emerged from backstage) in front of a camera crew. Meanwhile, the poor models continued walking, although everyone had stopped watching them.
Related: 
Juicy Couture's Co-Founders to Launch New Label, Skaist-Taylor