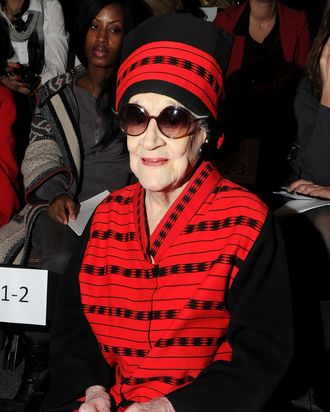 Zelda Kaplan at the Joanna Mastroianni show, moments before she collapsed.
Photo: Jason Kempin/2012 Getty Images
Socialite Zelda Kaplan died today after keeling over in the front row of the Joanna Mastroianni fashion show at Lincoln Center. She was pronounced dead at Roosevelt Hospital, although the cause of death was not named. She was 95 years old. "I was sitting right next to her. She flopped over in my lap," Ruth Finley, publisher of the Fashion Calendar, told the Associated Press. "The show was just starting. I thought she fainted. Two men carried her out." Kaplan always attended Mastroianni's shows, according to Mastroianni's husband, as she was a good friend of the designer's stylist, Mia Morgan. 
Known for her eccentric fashion sense and frequently documented by photographers like Advanced Style's Ari Seth Cohen, Kaplan was a fixture of the New York City arts scene. She was the subject of a documentary film, Her Name is Zelda, in 2003, and regarded by many as a positive example of aging with panache. When she wasn't frequenting parties and events, she traveled to remote areas of Africa to speak about women's rights. The New York Times once called her "New York's oldest and most beloved night owl," but Kaplan never understood why such a fuss was made over her age. "I'm a curious person," she told the Times. "I want to keep learning until it's over. And when it's over, it's over."
Related: Slideshow: Remembering Zelda Kaplan, Beloved Party Animal