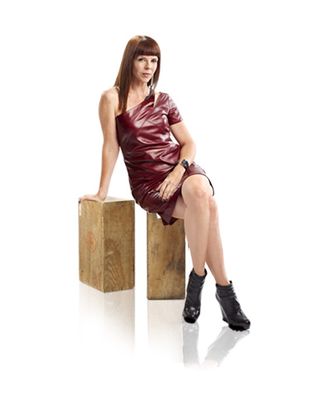 Mila Hermanovski.
Photo: Courtesy of Lifetime
Last night's episode of Project Runway All Stars brought bad news for another designer — Mila Hermanovski, whose color-blocked gown blocked her progress on the show. (Sadly, her consistently correct pronunciation of Papua New Guinea counted for nothing.) Fresh off her elimination, we talked with Mila about the show, Star Trek, and how some all-stars spent the season smoking up.
A day after watching your auf'ing play out, how would you sum up your all-star experience?
In general, I was impressed — as designers, we were all impressed with each other. When we compared our lineup to our [original] seasons and how, let's face it, there were always the weaker few that everyone knew would be eliminated early on — that just wasn't the case here. We're all sitting watching the runway each week and it's like, "Holy cow, that stuff looks great, we're cranking out some really good work here. How'd we pull it off?"
Were the time constraints appropriate given the talent of the competitors?
This is interesting because on the one hand I often felt like, "Wow, if they just gave us one more day, [our work] could be that much better." Yes, the finished products did suffer for the time constraints. I think they could have given us a little more time and it would have been that much better. But, then again, it's not as dramatic.
So, knowing that things would likely be even tougher this second time around, did you have reservations about signing up as an all-star?
A lot of people ask, "Why did you go back? Why did you do All-Stars?" I always say, you know, I'm building my brand and I'm building my line. I'm an emerging designer and it's important to me to be out there, to show and stay true to my aesthetic on the show. That was one thing that I promised myself I would do throughout All-Stars, from a business perspective and from a PR perspective. But I don't agree with some of the criticism that was given to me that was, "Oh, well, she didn't follow the challenge. She just did what she wanted to do." I always tried to adapt. Sometimes it worked and sometimes, according to [the judges], it didn't.
How did you find the new judging panel?
I always appreciate feedback from the judges — at least I did on season seven. I don't know that any of the new judges, frankly, really understood me as a designer. I left feeling like, "You guys just don't get me." And especially with Angela, I noticed that she started getting snarky. I don't know if that was because she needed to step it up, or if it was direction from the network, or if it was just that she started getting comfortable.
And how was Joanna Coles as your new mentor?
In the beginning I felt she was a bit standoffish. I know all of us felt like, "Come on, Joanna, we need a little bit more mentoring." She would come into the workroom and not really give a lot of direction. What I loved about Tim is he would come in and say, "Mila, what about this right here? What about that?" He would point something out that would make you think, "Should I reconsider that?" I felt like we weren't getting that from Joanna until later in the season. She really started growing on me though. I love her now —  and I loved having a woman in the workroom, I thought that was really refreshing. And [the difference] was very apparent last night with the issue of women's undergarments, for example.
None of the male designers seemed to consider it at all.
Totally. Like, "They'll deal." It's funny because in my line of work — I work in TV and film costuming — when you're asked to style someone you have to consider those things. I'll never forget the first time that a costume designer said, "Well, that's a nice dress, Mila, but how's she gonna wear a bra with that?" And I think that from a commercial standpoint, too, as a fashion designer you have to think about those things.
Is your background solely in costume?
I've been costuming for fifteen years now. I started my career in fashion at Calvin Klein in New York back in the nineties, and then I just took a little detour and got swept away in the world of costumes — I thought it was really interesting and a refreshing change from fashion. One of the things that was wonderful about season seven of Project Runway was that I'd been feeling like costuming was not very gratifying anymore, and not as creative. Let's face it: 75 percent of the shows are contemporary, and there's a lot of television that's just like, "Oh great, another doctor in a lab coat. Another serial killer in a hoodie."
So auditioning was a "why not?" moment. I got called back and then, before I knew it, I was on the show. But in the interim I had to produce a body of work to show to the judges, because I hadn't been sewing for a long time. And it just lit this spark in me again, like, "I really need to be a fashion designer again." Going back to All-Stars was about getting out there again, staying in the public eye, and honestly, it's just because I'm trying to get my line going. I'm trying to be a full-time fashion designer again. The costuming is wonderful, and I'm on an amazing project right now that I'm really grateful for, but in the end it's funding my collection.
Can you talk a little about this big project?
It's the second Star Trek film. It's a dream, and I've been working on it since late October — I'm very grateful to have the opportunity. Ironically, it's probably the best job I've ever had in my costuming career, now that I'm trying to phase it out of my life. So I've been working full-time on that and making a collection. I've got about 25 looks so far, and I'm going to show it hopefully within the next month during L.A. Fashion Week.
How do you find the time?
It's really rough, but I'm passionate about it. I've had this idea for this collection for a while now, and I want to actualize it. Come hell or high water, I'll show it! Hopefully one day you guys will be covering me in New York — that's obviously the holy grail, to show again in New York. I just couldn't make it happen with my job this year. Maybe September.
One last question — I noticed this enticing tweet of yours last night about some "bad behaviour" during taping. Can you elaborate for us, pretty please?
Well, when it came to rule-breaking, I'm not gonna mention any names, but there were some people sneaking out at night, there were some people smoking pot in their rooms. I was like, "Wow, you guys are ballsy."