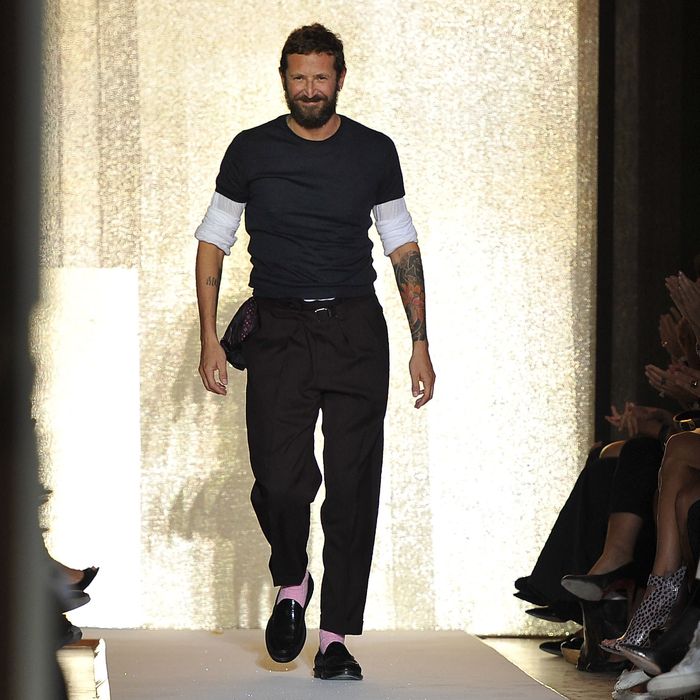 Stefano Pilati.
Photo: Pascal Le Segretain/Getty Images
Stefano Pilati will step down from his role as creative director at Yves Saint Laurent on Wednesday, WWD reports, and present his final collection for the house in Paris on March 5. The announcement follows years of rumors about a rift between Pilati and the fashion house, particularly with former YSL executive Pierre Bergé, who was hardly discreet about his disapproval of Pilati's work (he notoriously excluded Pilati from the gala invite list — horrors! — for the YSL retrospective exhibit at the Petit Palais in Paris in 2010). Even Saint Laurent himself expressed dissatisfaction with Pilati's designs, saying in 2005, "Some of what he does is good. Some of it is not so good." Former YSL menswear designer Hedi Slimane is expected to fill Pilati's position, according to WWD, although no one from YSL's camp confirms this.
Despite criticisms from YSL's old guard, Pilati's work was commercially successful and, for the most part, critically well-received (he's credited with developing particularly successful bags and shoes, like the YSL Tribute). The company's business has consistently improved since he succeeded Tom Ford as the chief designer in 2004. In a Times profile that ran last March, he was credited with turning around a fashion house that was previously hemorrhaging around $100 million per year.
Of course, Pilati, YSL, and parent company PPR all have nothing but glowing things to say about each other and themselves. Says Pilati: 
[I am] incredibly proud of what I have accomplished with my teams over the past decade at Saint Laurent … I exit the house with fierce conviction in all that we have achieved and deep gratitude to those who have supported me along the way … I wish the maison Yves Saint Laurent and its new creative director the very best for the future.
PPR chairman François-Henri Pinault added, "I join Paul Deneve and the house of Saint Laurent in thanking Stefano for his dedication and contribution to the story of Yves Saint Laurent. I personally wish him all the best." 
Anyway, so Hedi Slimane! He's been hiding out in L.A. doing photography since he left Dior Homme in 2007, but he's the most obvious replacement. (WWD says he was "spotted" at a flea market in London yesterday, if you're wondering where he is this VERY minute.) But now that Raf Simons is also a free agent, there's some added suspense (particularly since there have been rumors of him going to YSL for a while, too). Just when you thought Paris Fashion Week couldn't get any more dramatic after that Galliano mess last year — dare we ever hope for a nice quiet end to fashion month?