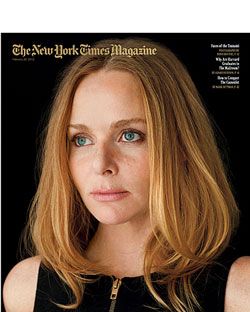 Stella McCartney's New York Times Magazine cover.
Photo: rbrown
Cathy Horyn's lengthy, highly complimentary profile of Stella McCartney for this week's New York Times Magazine includes accounts of several car trips with McCartney's kids and a weekend at the family's country house (you know, this one). McCartney comes across as a former party girl turned innovative designer and committed mom and wife, and sets a few things straight about her past. 
First of all, Phoebe Philo really wasn't doing all the work at Chloé when she worked there with McCartney:
According to Ralph Toledano, the respected executive who took over Chloé from Moufarrige and today runs the fashion division of Puig, McCartney pulled the design weight at Chloé — not Philo, as many assumed. "Phoebe had a lot of input," Toledano says, "but Stella was running the show."
And McCartney's first show for her own label was just as much of a disaster as everyone remembers:
McCartney's first show for her own label was a flop. In what she now calls "a massive misstep," McCartney sent out plastic guitar purses and clothes trashed with Cockney rhyming slang… In a burst of British irreverence, she also hired Saint Martins students for her design team rather than professionals. "But the biggest mistake was I was trying to be something that I wasn't."
Finally, that story that Tom Ford tried to get McCartney to replace him at Gucci may not be entirely true:
The McCartney narrative has long included the story that, in 2001, when she left Chloé to start her own line, she turned down opportunities to design Givenchy and Gucci. According to McCartney, Tom Ford tried to persuade her — over her protests that she didn't work with fur and leather — to take the creative-director job at Gucci while he designed Yves Saint Laurent, which Gucci Group had recently acquired. "He said: 'Just come to my studio and look at everything. Maybe you'll do it,' " she recalled, shaking her head. "As if all those exotic skins and corduroy hamster fur were going to turn me on and make me change my entire ethic."

But when I spoke to Ford, he said: "It was never a conversation about taking over at Gucci. I think she might have interpreted that at a certain point." He said he was aware of previous statements she made in the press, but "I just never corrected her."

"Oh, he's a lying, cheating … what?" McCartney exclaimed, when I repeated his comment. "That's the weirdest thing. Why would he take me into an office and show me every dead animal? Oops!" She laughed and, frowning, said to me: "How are you going to handle that? 'Stella says she got offered Gucci but she didn't … LOSER!' " She continued to chuckle.
How awkward! But McCartney still wins here because of her chuckling.