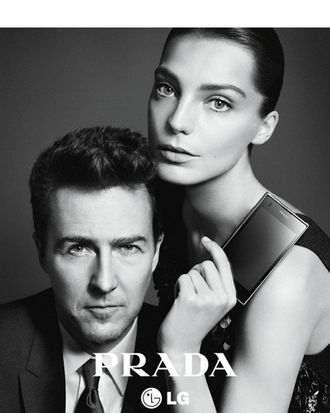 Edward Norton and Daria Werbowy for Prada.
• After David Beckham revealed that his wife Victoria preferred him in long johns instead of boxer shorts, sales of thermal underwear reportedly rose 140 percent in the UK. [Daily Mail UK]
• Lara Stone says, "If I had to model clothes in a time period other than the 21st century, I think I'd like to model way back when they just wore skin loincloths. That would be best suited for me — better than corsets. I'm quite claustrophobic." [WSJ]
• Edward Norton and supermodel Daria Werbowy star in the new campaign for Prada's LG phone. [Design Scene]
• Giorgio Armani signed an agreement with an Indian real-estate developer to design and furnish a very high-end apartment complex in Mumbai. [WWD]
• D.J. Mia Moretti expects Lana Del Rey's "Born To Die" will be the most overplayed song this coming New York Fashion Week.
• Susan Sarandon and her daughter Eva Amurri Martino star in Neiman Marcus's latest "Art of Fashion" ad campaign. [PeopleStyleWatch]
• Workers' rights groups are investigating wages and labor conditions in the Cambodian garment industry, because of recent worker strikes. [WWD]
• Stylist June Ambrose says her upcoming reality show is a "makeover docu-soap. It's about the evolution and the emancipation of the celebrities we love and I'm helping to rebrand and bring them back in a very positive light." [NYDN]
• Brunello Cucinelli filed for an IPO in Milan on Friday — a "key step for growth," according to the label's founder. [Reuters]
• Starting with its new March issues, Elle China will publish twice a month. [Fashion Week Daily]
• Model Naomi Preizler spends most of her time backstage at fashion shows drawing. Here are some of her sketches. [Telegraph UK]