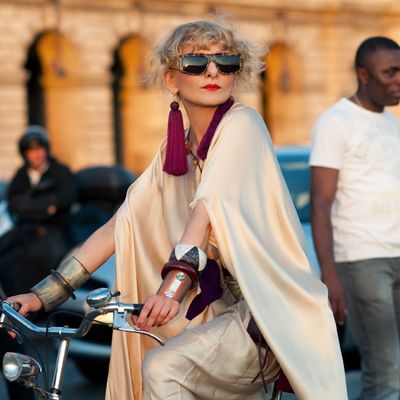 No matter how you feel about the onslaught of street-style images during fashion season, there's a certain sport to be had in dissecting the showgoers' outfits. With that in mind, we once again asked some of the best street-style photographers — including Citizen Couture's Jason Jean, Mr. Newton's Eddie Newton, and Streetpeeper's Phil Oh —  about their favorite shots from last season and who they look forward to shooting this coming month. (Yes, there are some fresh faces amid the traditional favorites.) Check out our slideshow and get excited for the parade of tiny bags, impeccable layering, and blisteringly high heels, sure to be immortalized in the following weeks.
More Fashion Week Preview:
• How Fashionable People Prepare for Fashion Week
• The Top Ten Pieces That Will Be All Over the Street-Style Blogs This Fashion Week
• 99 Designers Reveal Their Fall 2012 Inspirations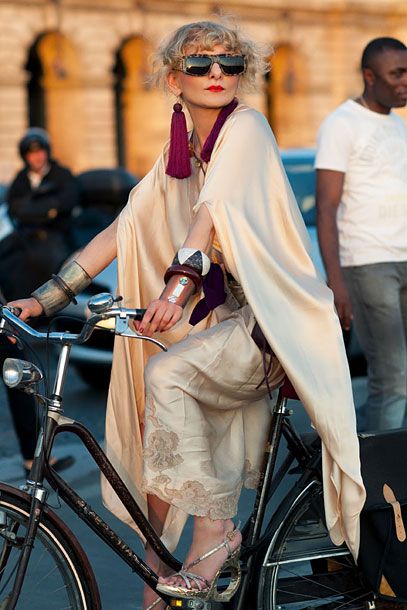 Jason Jean of Citizen Couture
Who: Catherine Baba, stylist. Why: Catherine is simply amazing. I wanted to capture her on her bicycle. She sped off on Place de la Concorde while I ran, hoping to at least get a photo of her in motion. The opportunity to get a still shot opened up when she stopped for a red light, and the light was perfect — which was more than I could have asked for at that moment. This season's target: No one in particular. I enjoy finding new faces.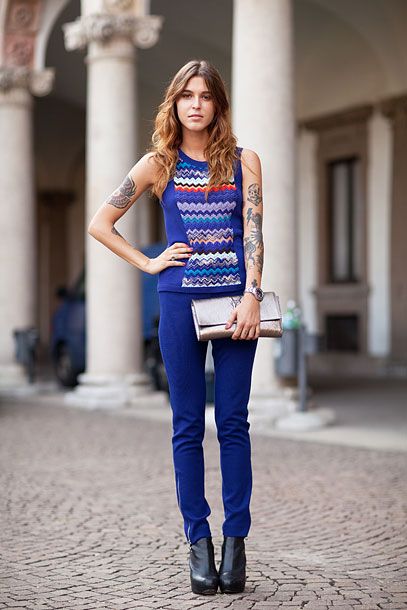 Eddie Newton of Mr. Newton
Who: A mystery girl in Milan. Why: I remember her looking a bit lost in a crowd of people and being really surprised that no other photographers were taking her photo. I like the contrast of her beautiful face and designer outfit with some rather rough-looking tattoos. She doesn't look like a posh girl trying hard to toughen her look nor does she come off like a rocker girl who is playing designer dress-up for the day. She's just f-ing cool. This season's target: Lana Del Rey.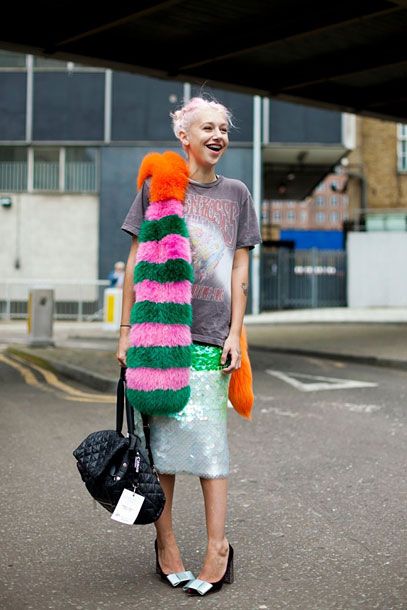 Candice Lake
Who: Hannah Lambert, assistant to Sarah Mower Why: After the Meedham Kirchoff show we were all elated from having seen one of the most fun shows of the month. I darted across the road and proclaimed my love for Hannah's style hair, braces, everything. She really didn't want to be photographed at all during London Fashion Week. She said, "I hate having my picture taken. I hate my braces. Really I can't!" And I said, "Are you kidding I LOVE your braces!" And she said, "Oh okay. But don't show my braces." And I said, "But they make you look even cooler!" And that's when she started laughing. This season's target: I love fashion assistants and students. Girls who love fashion but are really creative with how they interpret it. They are my ultimate favorites.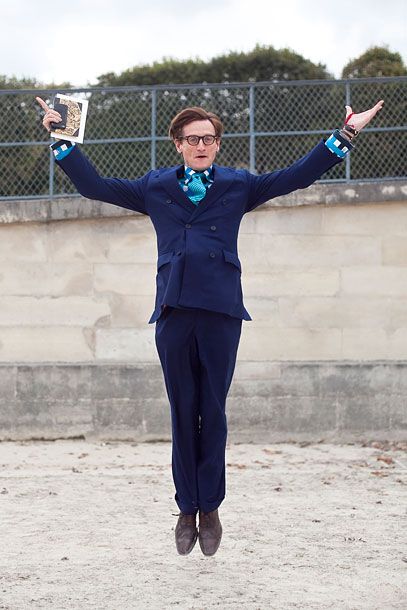 Craig Arend of Altamira
Who: Hamish Bowles, European editor at large, American Vogue Why: This was my first time asking Hamish for a jump shot. The risk of rejection, the split-second timing, the speed with which it all went down — and just the fact that it's Hamish Bowles! This season's target: Valerija Sestic debuted at the September shows and I can't wait to see how her style evolves.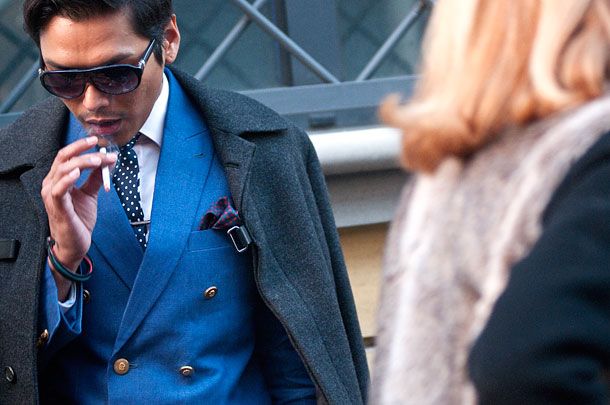 Guerre of Guerreisms
Who: A Man in Milan. Why: This photo reminds me of a movie frame that I would love to be the director of. This chap looks like he's in his own world as he stops to light a cigarette, with the world around him is still in movement. I like moments when people are not looking at the camera because the results are always natural. This season's target: I actually look forward to shooting new faces and looks every season. Some people constantly bring their 'A' game but for me the message is always more important than the messenger—it's all about the style.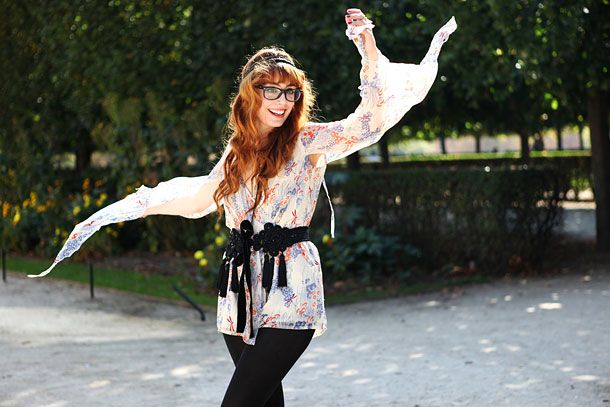 Victoria Adamson
Who: Louise in Paris Why: I am a big fan of vintage. I love anything shiny or sparkly that captures my magpielike eye. This shot was taken before the Carven show last season and takes me back to the beautiful Jardin des Tuileries and that hot sunny day. This season's target: I always look forward to photographing the usual people like Caroline Issa, Taylor Tomassi Hill, Yasmin Sewell, and to see the latest trends they are wearing. I adore model Frida Gustavsson's style so I make it one of my goals every season to get a great shot of her.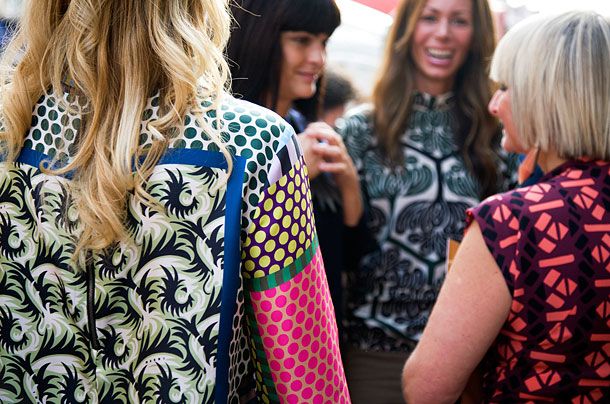 Phil Oh of Streetpeeper
Who: This was a little group outside of the Marni show. Why: I love print and color, so I was really excited seeing all these patterns in one spot. This season's target: No one in particular, but I'm psyched to see if anyone will be wearing Mary Katrantzou or Suno — two of my favorite collections for this season.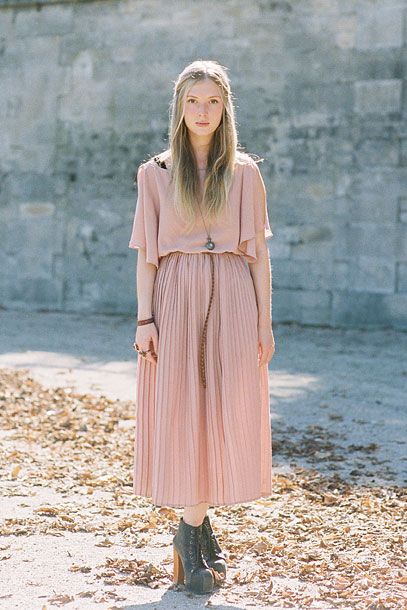 Vanessa Jackman
Who: Isabelle from Bohemian Musings blog. Why: On a bright, sunny day the light can be quite harsh and tricky in the Tuileries, especially in the middle of the day. There was this little pocket of shade I found which was perfect for photographs. I think it is a combination of a few things: Isabelle herself (how gorgeous is her hair?), her pale, pretty dress and the light. It kind of all just worked together. This season's targets: I love seeing what everyone wears each season. I have to say that Hanneli absolutely kills it, style-wise, and she is brilliant to photograph as well. And Caroline Issa just has the most beautiful, feminine style.