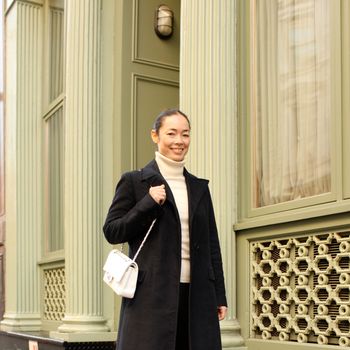 Cecilia Dean.
Photo: Melissa Hom
Visionarie's Cecilia Dean will be cozy and comfortable in her many meetings today, as she layered Uniqlo's Heattech turtleneck underneath a thin, white cashmere sweater. She also chose a warmer shoe — a white shearling-lined open-toed Martin Margiela boot — and paired it again with a color-coordinated toe-sock. Cecilia completes her look with a vintage Helmut Lang coat and her go-to purse: Chanel. "Since I'm not lugging things around town today, I could have a nice small elegant purse," she explains.
On Cecilia: Martin Margiela boots, Uniqlo turtleneck, vintage Helmut Lang coat, Martin Margiela pants, and a Chanel Purse.
About the look: "This is my cozy outfit. I have so many meetings and these shoes are really comfortable. They keep my feet warm even though my toes are exposed, and since they are not super high, I could run around. These are my most comfortable pants, they even have an elastic waist."
See more: Outfit from day one.
And catch more of Cecilia's fashion week adventures at vmagazine.com.