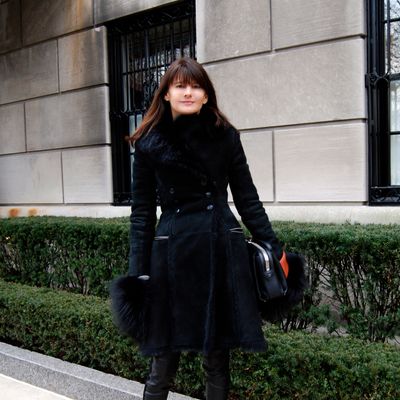 Today, stylist Marie-Amélie Sauvé kept her look simple, black, and fitted — as per … well, pretty much every day. Sauvé wore an Azzedine Alaïa sheepskin coat, paired with Balenciaga's leather leggings and Alexander Wang's pre-fall 2012 stiletto ankle booties. Her Balenciaga spring 2012 clutch makes another appearance, as do her fur gloves.
On Marie-Amélie: Balenciaga sweater, leggings, clutch, watch, and gloves, Azzedine Alaïa coat, Alexander Wang heels, vintage diamond bracelet, and her family's ring.
About the look: "I was so scared to be cold, so I thought I had to wear my sheepskin and fur gloves, but the weather is actually quite great. As always, [my look is] easy, comfortable, and fitted. For me, this is my uniform."
See more: Outfits from days one, two, three, four, and five.