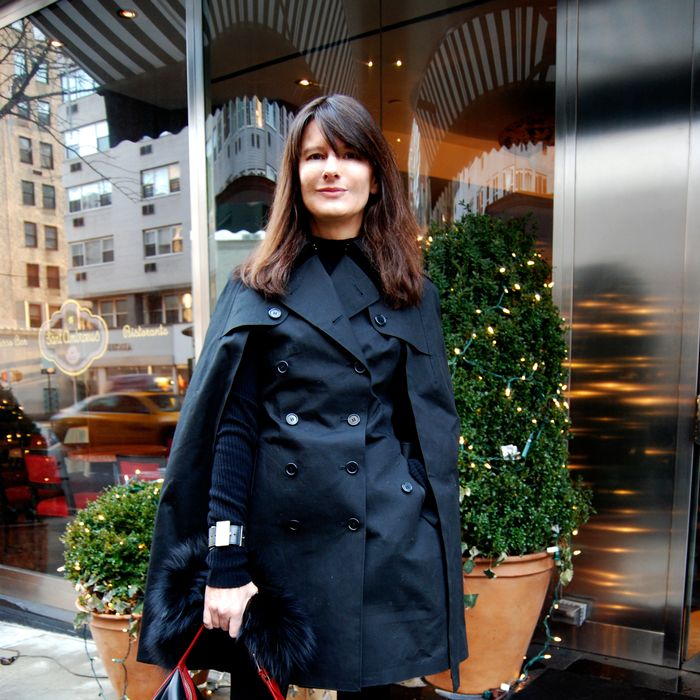 Marie-Amélie Sauvé.
Photo: Betsy Blundell
One of the things that stands out most about Marie-Amélie Sauvé's style is her tendency to wear classic garments with just that little wink of a twist. Take, for example, this spring 2012 Junya Watanabe raincoat, which is an intriguing hybrid of coat, dress, and cape, all at the same time. Sauvé paired it with two of her wardrobe staples: Azzedine Alaïa's black leggings and Gianvito Rossi's classic pumps. Finally, to add some color to her all-black look, she grabbed Balenciaga's most-wanted spring 2012 accessory: the double bag.
On Marie-Amélie: Junya Watanabe spring 2012 Mackintosh-fabric raincoat, Rick Owens sweater, Azzedine Alaïa leggings, Gianvito Rossi pumps, Balenciaga spring 2012 bag, Balenciaga fur gloves, Balenciaga spring 2011 watch, vintage diamond bracelet, and her family's ring.
About the look: "These are the things I wear almost every day — quite fitted clothes. Azzedine Alaïa is always tailored well and I like the Watanabe because, again, it's fitted, but with that cape it's quite structural. I'm going to work until late so this is quite comfortable for me, and easy. "
See more: Outfit from day one.