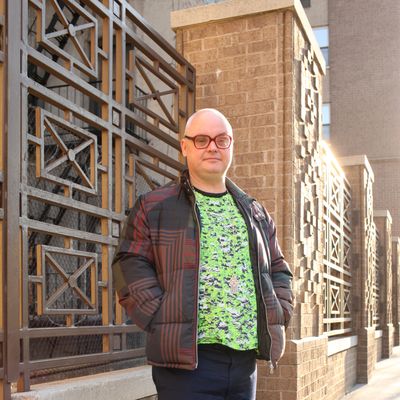 Mickey Boardman
Photo: Melissa Hom
Paper Magazine's Mickey Boardman revisited a few successful pieces from earlier in New York Fashion Week because, "if ain't broke, don't fix it." Today, Mickey brought back his Joseph Abboud suit pants but ditched the jacket, and busted out his sequined Junya Watanabe "clown shoes," a gift from his good friend, Chicago retailer and Michelle Obama's stylist, Ikram Goldman. He rounded things out with an embellished neon top and a puffy coat — it's cold today!

On Mickey: Junya Watanabe shoes, Joseph Abboud pants, Proenza Schouler top, Dries Van Noten ski jacket, and Selima glasses.
About the look: "I'm repeating some looks today — I'm very European that way. I don't mind wearing the same thing because I'm very uniform. I have, like, ten navy blue Lacoste shirts. People probably think I'm wearing the same old shirt every day, but I don't care. "

See more: Outfit from days one, two, three, and four.
See more of Mickey's fashion week adventures at papermag.com.