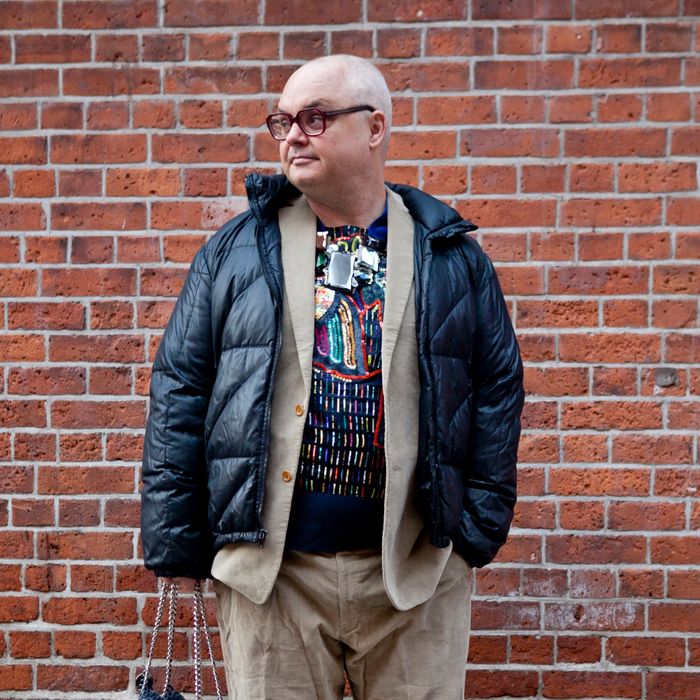 Mickey Boardman.
Photo: Jed Egan
For today's Style Diaries, Paper magazine's Mickey Boardman's business-glam look returns. This time, he combined a Michael Kors suit, a Suno bejeweled top, Steve Madden sequined slippers, and a Logo by Lori Goldstein for QVC necklace. Mr. Mickey is looking forward to attending Diane Von Furstenberg's, show today, a woman who he cites as his "style idol," and calls the "the hardest working princess in show business." Afterward, he will be heading to the Colette and the Cobrasnake dinner at Shake Shack to celebrate a new Vans collaboration over mushroom burgers. 
On Mickey: Steve Madden shoes, Selima glasses, Michael Kors suit, Suno top, Logo by Lori Goldstein for QVC necklace, Marc Jacobs coat, and Stella McCartney bag.
About the look: "I don't change bags everyday. I have this anxiety every time I change bags like, 'What did I forget? Did I leave my keys in the other bag?' So I'm just sticking with this one. I usually just switch between my two favorite Stella McCartney bags, but I might pull out a Fendi by the end of the week." 
See more: Outfit from days one, two, and three.
See more of Mickey's fashion week adventures at papermag.com.