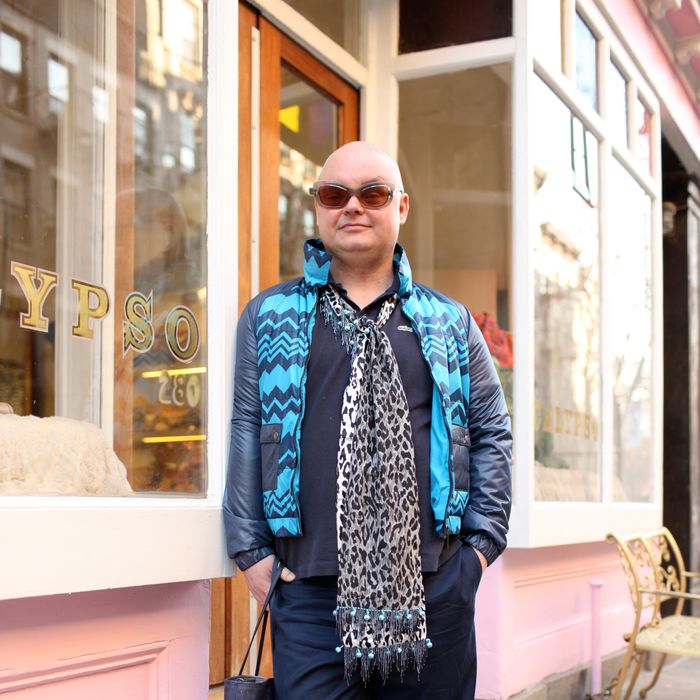 Mickey Boardman.
Photo: Melissa Hom
For the second day of Fashion Week, Paper magazine's Mickey Boardman traded in yesterday's businesswear for a sporty, monochromatic look, wearing a Missoni for Target lady's ski jacket over his signature navy Lacoste top. "I would wear a navy-blue Lacoste shirt every day," he proclaimed. "In fact, I often do." Mickey completed his look with all-blue accessories: a coated canvas Fendi bag, a leopard-print PROVA scarf, and Prada prescription sunglasses with custom-colored lenses. "The person at LensCrafters said it's hard to get the prescription just right with amber lenses," he said, squinting. "But I can't have these glasses and not have orange lenses. So I can see … I guess just not exactly perfectly." 
On Mickey: Lacoste shirt, Joseph Abboud pants, Missoni for Target jacket, Prada Sunglasses, Superga sneakers, PROVA Scarf, and a Fendi Bag.
About the Look: "I love the cult look. I could be in a navy-blue cult. It could be fascists, it could be Republicans, it could be gay-haters. As long as they are in an all-navy-blue look, I'm onboard …  although I'll probably look more like I'm a doorman."
See more: Outfit from day one.
And catch more of Mickey's fashion week adventures at papermag.com.