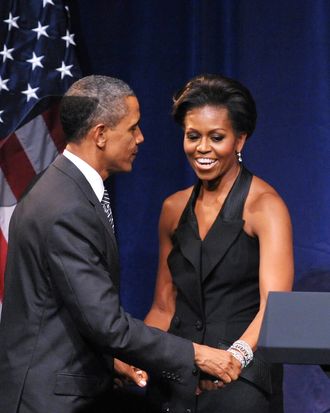 Michelle Obama, presumably wearing very respectable foundation garments.
Photo: MANDEL NGAN/2011 AFP
We interrupt our Fashion Week coverage with an important announcement: The Telegraph finally admitted that their article about Michelle Obama shutting down a block of Madison Avenue so that she could go on a $50,000 "shopping spree" at Agent Provocateur with the Queen of Qatar, Sheikha Mozah, was indeed completely false. They also formally apologized for printing such total (but hilarious!) bullshit, but mostly to Sheikha Moza, not Obama — indeed, the title of the correction is "Her Highness Sheikha Moza – An Apology."
Further to our article "First Lady's luxury buys boost Agent Provocateur" (Jan 30), we would like to make clear that the "shopping spree" involving Her Highness Sheikha Moza and Michelle Obama that we referred to in fact never occurred, and that Her Highness has never been shopping with Mrs Obama, at Agent Provocateur or otherwise, and has never sought to have any part of New York closed off to enable her to shop undisturbed. We apologise for the distress and embarrassment this article caused.
Okay, you can go back to looking at fashion shows now.
Related: Here's a Dubious Rumor About Michelle Obama Shopping at Agent Provocateur