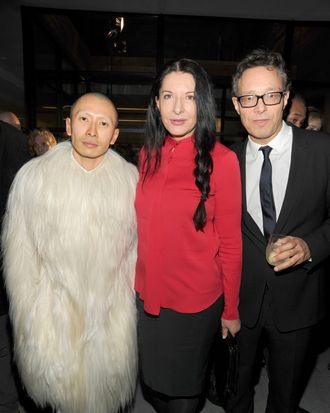 Koh and Abramovic.
Photo: Patrick McMullan/PatrickMcMullan.com
Last night, at party previewing photographs from his book, One Day in the Life of Robert Wilson's the Life and Death of Marina Abramović, Tim Hailand was snapping pictures of artist Terence Koh. The last time the two collaborated, in a guerrilla video for Bernhard Wilhem after a Fischerspooner concert in Athens, the evening ended with Koh getting arrested.
 "We trespassed in this ancient Greek stadium," said Hailand, who hosted the event with CoSTUME NATIONAL's Ennio Capasa. "A nineteenth-century marble Greek stadium, and we climbed over the fence and started shooting a video. Then they said, 'The police are coming!' Stephanie from Fischerspooner cut her foot and it was bleeding. We had outrageous outfits on. And then Terence and Casey [Spooner] and Bernhard jumped on a public bus — and the police stopped the bus! It was the night of my birthday — it was a crazy kind of caper."
Did Koh go to jail? "We did, for like an hour," he said.
"And then the director of the Biennale came and bailed 'em out and said they were making a site-specific video," said Hailand.
"My only time in jail," said Koh.
"That's good," said Hailand. "Casey shot video of you guys in the holding room, but then he lost his phone the next day, so the video is gone. But I've got photos."
"You do?" said Koh. "Could you send those to me?"