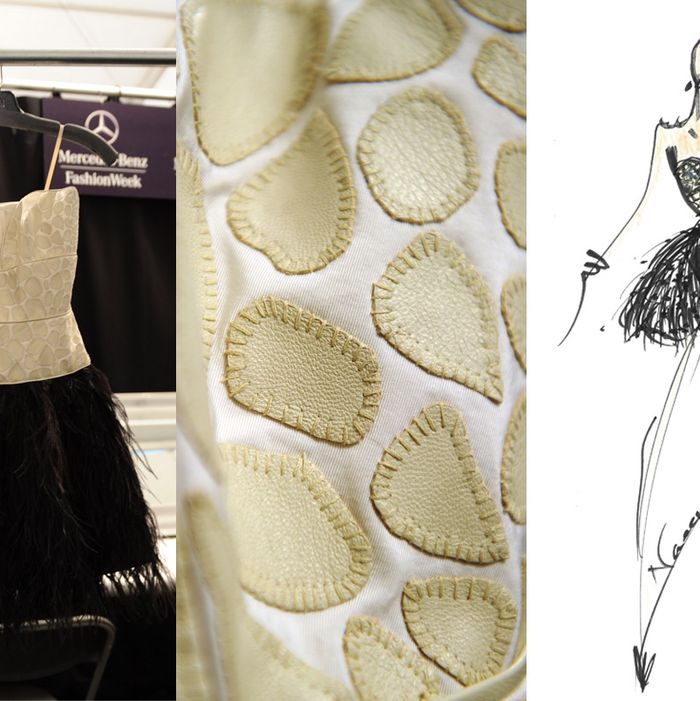 Khan's leather corset dress, plus a detail shot and sketch.
Each season, Mercedes-Benz taps a designer to collaborate with for New York Fashion Week. This year's pick is Naeem Khan, who designed a leather corset dress to be displayed prominently at Lincoln Center all week (right next to a gleaming white ML63 AMG parked in the tents — lest any of us forget who's paying for all this). But if leather corsets bring to mind whips and Madonna, Khan — best known for his flowy evening gowns worn by the likes of Michelle Obama — will have you know that respectable ladies can wear them these days, too. 
Your aesthetic doesn't seem very "bondage" — do you worry that incorporating leather might give that vibe?
Leather can come out looking hard, because it gives that whole impression, like you said, of bondage. But I don't want my clothes to signify bondage, because my clients are sophisticated, and that's certainly been a challenge. But with today's technology, it's unbelievable what you can do with leather. When it's processed in a certain way, it can look like alligator, or it can look like sequins, or lace. It can be laser cut, and it molds. Leather is an amazing material.
Can you explain how your partnership with Mercedes-Benz brought about this leather corset dress?
I wanted to make something fashionable out of leather that would reflect the way that Mercedes makes their cars. Every piece of the corset was assembled by hand, like how Mercedes AMG engines are assembled by hand. It's a very sexy corset with alligator pattern and each of the scales are hand cut.
 Is it made from the same leather that's used in the Mercedes cars?
Similar. The car's leather is very, very heavy, so I needed something more malleable.
So do you get a Mercedes car out of this deal?
I already have one! Since 1984, I've only had Mercedes cars. Right now I have the SLS, in silver, and I have a G-Wagon, which is also a handmade Mercedes. I keep all these cars in Miami, because in New York, I don't need to have a car.
Will we see pieces like this corset in your show?
Not that same corset. But it is keeping in tone with the collection. I will be showing a lot of leather.
It's been a big year for you, with Michelle Obama wearing your dress, and lots of red carpet moments. What's on your agenda for this year?
The first step is to take my collection a little wider. I want to make clothes that aren't just for the red carpet, but work for dinner, or for a great luncheon. Not your day-to-day activewear clothes, but more important dresses for when you'll go to a fancy lunch or fancy dinner. That's our next goal. And then after that, of course, I want to do the bags, the shoes, the fragrance and all that, but that will happen as business gets larger.