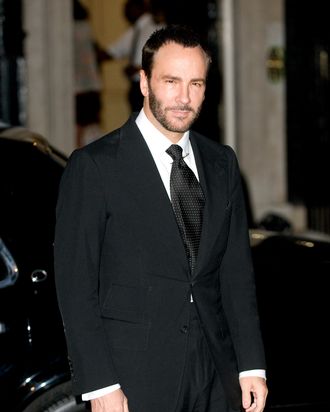 Tom Ford.
Photo: Samir Hussein/2011 Samir Hussein
As usual, we have no photos of Tom Ford's fall 2012 collection, which was shown to giddy editors at the designer's London showroom over the weekend. But from what we can gather, critics have forgiven him for his disastrous spring 2012 season (you remember, this one) and are going wild over what sound like some very loud fur coats. Also, Ford began his presentation by practically admitting that last season was bad. Reports the Guardian:
Before he showed us the clothes, Ford made a little speech, about how his label is about celebrating individual women, and making clothes that they love, and making them feel special. And that because of that, he had wanted last season to tailor the hair and make-up to each model, and create individual looks. "But what that doesn't do is send a strong, sharp message of what I'm about for the season. That was missing."
Phew! Isn't it a relief when icky, lingering awkwardness is quickly acknowledged so everyone can just get back to double-kissing? And that's exactly what happened: So far, all the reviews of Ford's new collection — even one by a critic who panned him last season — have been positive. Based on their descriptions, here's what we can expect when Vogue inevitably releases the images months later:
• "Knee high boots, some with animal prints, and a succession of ultra luxe beaver and skunk jackets, or curved, waist-cinching alpaca fur coats. Colour palette: black, red, and some more black, with a beautiful one-shouldered cream floor-length column with matching cape as the stand-out piece."–the Telegraph's Lisa Armstrong
• "We're talking lots of skinny tailoring and chubby fur coats, tight leather and sinuous crepe, bags with polished golden hardware and sharp-pointed stiletto boots." –the Guardian's Jess Cartner-Morley
• "'Another Russian spy,' Ford deadpanned, as a model entered his London showroom presentation on pin heels, a crocodile bra peeking out from her slim jersey tube dress. Black leather, glossy satin and crocodile scales painstakingly embroidered on silk jersey heightened the danger-laced, sexy Bond girl mood. Demonstrative gold wrestling belts were a wink back to his Gucci heydays, as were the the pencil skirts, the jersey dresses snaked with heavy zippers — and statement-making outerwear. Puffer jackets and capes came in glossy beaver fur. Hairy alpaca coats came in a look-at-me shades of tomato red or taxi yellow."–WWD
So, enjoy imagining those for now. And no, you probably won't see any of the dresses at the Oscars, per Ford's own admission. "No one wants to take any risks. It's all about a strapless dress, a fishtail hem, some borrowed and pretty hair," he griped about red carpet dressing.