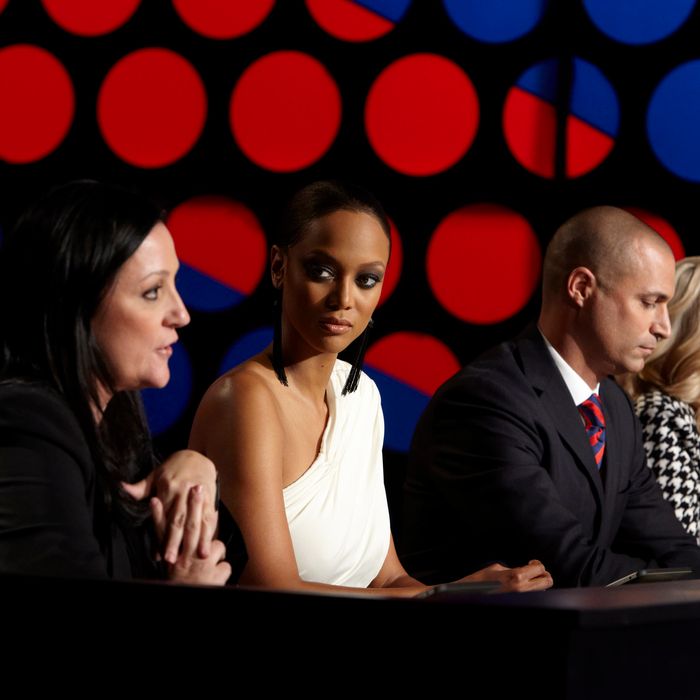 Kelly Cutrone joins the show's judging panel tonight.
Photo: Chris Frawley/The CW Network
America's Next Top Model's eighteenth cycle premieres tonight at 9 p.m. on the CW Network — so prepare yourself, because Kelly Cutrone joins the judging panel. While replacing André Leon Talley is certainly no easy task, if anyone can preserve Top Model's campy spirit, it's definitely Kelly. Dare we say, we're excited. Over tea and macarons yesterday, Cutrone talked about the fashion industry, Tyra, the show, why the show is a good lesson for young women, and why some "sucky" flood damage insurance helped get her on the panel in the first place. 
Top Model's seen a lot of action already, eighteen cycles in. Do you think that's something new girls on the show get too conscious about — that they have to make a big, loud, immediate impression to stand out?
Oh, god yes. I think sometimes they lose face of what they're actually doing. I mean, this is the world of Top Model… they have all of these mentors and experts, they're getting photographed daily, and they're being filmed 24/7. It's glamorous; instead of living in a real model apartment, they're living in a beautiful mansion somewhere. There are plenty of opportunities for forgetfulness and ego and getting lost in the moment. The girls who do well understand that they are in a competition, and when something bad happens – and let's remember, if any of us were shot 24 hours a day we'd have bad moments too — [they] spring up and keep going.
But there are girls who have bad days, they take bad shots, and we saw them check themselves out of the competition. If they could have just had a little towelette of refreshness, and reminded themselves that criticism is part of growth, and that everyone takes bad shots every now and then, then they'd get to move on. But they didn't. They gave up! So there were certainly girls I couldn't believe make it as far as they did, because of that. And then some were just horrid, but they'd take good pictures and nobody would see their personalities.
With the construct this cycle being U.S. models versus U.K. ones, were there cliques? "Tribal" lines drawn by country borders?
Well, it's not quite Lord of the Flies. It's Lord of the Smize!
That's a really good title. Can you suggest that to Tyra as a future photo shoot theme, please?
It could be funny… but actually, it would be scary. Do you know, I actually had dreams about the models. Some nights after judging I would wake up in my hotel room from scary Top Model dreams — the girls were haunting me. It was always a couple who I didn't really like —  I can't tell you who they were, but I'd see their faces and hear their voices. I told the producers one day, "I need to charge more money next season because I thought judging would end when I went home. I didn't realize that they'd be infiltrating my sleep." I asked Nigel too, "Do you ever dream..?" He's like, "No way."
Did you enjoy working on the panel with Nigel?
Lots. Nigel and I were doing the whole Mommy/Daddy worker thing together. When we were on the road [shooting], Ava [Cutrone's daughter] would call him all the time and be like, "Nigel, it's Ava, do you want to have dinner with my mom?" Or when her Dad was with us: "Do you want to have dinner with my mom and my dad and my nanny and I?" We kind of adopted him into the Cutrone clan. And he's funny. He's a bit more loosey goosey than you would think, though he does take the show very seriously. Do I have a crush on Nigel? Yes! And I can do a really good Nigel imitation.
Please do.
[In a solid British accent, with lots of Nigel-esque pointing] "The thing that I loved is the way that you showcased the length of your neck and did something wonderful with your eyes, and you didn't flinch for a moment — all of these other girls flinched but you didn't. It's powerful." And then I'm like, "I don't get it." 
So that's your judging style — concise, and hard-hitting?
I call it like it is. And sometimes it's a freak show! I'd worked with Nigel before on projects too, though. Actually, I was working with him on a shoot right around the time I got asked to join Top Model. A good friend of mine works as a producer on the show, and called to ask if I would be interested in appearing. I figured they wanted me to do an episode, be a guest judge or host a challenge. I called her up and she goes, "We want you for the whole season. We want you to be a new judge." I thought it would be great for my brand. And, you know, my house in Cold Spring got damaged from a hurricane over the summer, so I needed to repair a lot of damage that my shitty flood insurance company refused to cover. What's the point of having flood insurance if they only repair like two inches of your walls? I have Vivienne Westwood wallpaper! I thought, it'd be great to make some extra cash so I can pay for my Westwood wallpaper habit. I love it. I mule it back myself in a box from London so it doesn't get all squashed being shipped. And I get a discount from Vivienne's son. He gives me the good stuff. So it was a great opportunity, extra money, I was happy — a triple win. I judge people all day every day anyway, so the fact that I could get paid for it is just great. I get paid money to tell it like it is. My mother would say, "That mouth of yours!" I'm like, "It pays, thanks Mom!"
So jumping ahead a little, the show's nineteenth cycle just got picked up. Will you be back?
[The producers] asked me to come back. Originally they said, 'If we get picked up [again], would you like to come back?' So I said yes, and it's a relief really, because when I took the job I said to my lawyer, "I fucking bet you, if this show gets canceled, I'm going to kill myself because I'm gonna be the person who killed Top Model."
It's set to be a college-themed series. Do you think the Top Model experience justifies taking a semester off school?
If it's a girl genuinely interested in learning more about modeling, sure. Real-life experience always helps. I think that my interns learn more about being at People's Revolution for 6 months than they do — I mean, I hate to say it – no, I don't hate to say it. I say this and I've said it before, I've have interns with communications degrees, and they can't take a fucking phone message. I ask, how much did you spend on your education? $100,000? $150,000? Money wasted! Go ask for a refund. I had a car with two tires, I'd return it. You should go return your education. Go back and tell your fucking school that you want your money back.
There are kids all across America having a really hard time, and shows like Top Model are a real indication of other opportunities for them in life. All you have to do is take a drive across America and stop in a few towns, and go to a Hardy's parking lot, and you're going to see a lot of lost kids. We have to empower these kids, anything we can to entertain them and help them follow their dreams — they need it. For the girl whose mom is drunk all day and whose dad left when she was two, she wants to be pretty and successful like everybody else, but she's not even going to the community college because she can't afford it. Where is she going to get her information? TV shows, reality TV. I guarantee you – and I know this more from being on The City and The Hills and being on my book tour — people are like, "I got into fashion because of shows on TV. I got into PR because of you."
Do you think it's particularly significant for young girls?
Yes! It goes as far as people saying to me, "I never saw a woman on TV achieve that." As much as I love Sex and the City, do I think that four friends of mine are going to talk about some guy's penis over dinner for two hours? No! We might make a comment, but we're not going to sit there and talk about it at length. [Laughs] Why? Because we have businesses to run. We're busy. We have other things to talk about. As a matter of fact, we try to get rid of all chicks who talk about guys more than 7 minutes, because they're not in the game — unless they have a real relationship problem.
We need real women talking about real things. And that's Tyra, it's someone saying, "Hey, I come from the outskirts of Los Angeles and I turned myself into Tyra Banks," which is more than just being a model. She's an author, she's a Harvard graduate, she's a huge… she's way more fucking successful that me, and she's younger than me. Do I have a crush on Tyra Banks too? Yes! Just watching her operate, I learned a lot. She's a pro, and girls need these examples, and they need access to information. Most of all with fashion, I mean, the industry is so elitist. What other industry does all this hoopla but doesn't invite the consumer en masse?  They're not welcome. Imagine if movies did that. "Sorry, we don't want you to come. It's opening weekend. You're not invited. You can buy the product on DVD in 6 months." That's what the fashion industry is, so I feel a responsibility to put information [about it] out there.
In the spirit of putting information out there, can you leave us with a teaser of tonight's premiere?
Well, we make the models up like American icons and then English icons. Somebody has to be a of the Royal family, someone has to be Lady Liberty. There's an Iron Lady; I think one of them has to do like Jimi Hendrix or something. It's brilliant, you'll see it. I'm never going to be the same.