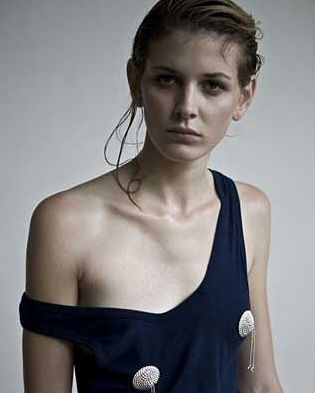 Ananda Marchildon wearing nipple tassels, courtesy of MTA Models.
Photo: MTA models
Ananda Marchildon won the fourth season of Holland's Next Top Model in early 2009. As part of her prize package, she received €75,000 (just under $100,000) and a three-year contract with Elite Models. However, in a lawsuit filed last week, Marchildon claims the agency fired her after two years and paid her only €10,000. Perhaps worse still, she was apparently stripped of her official Holland's Next Top Model title — all because, according to Marchildon's lawyers, Elite bookers deemed her hips 2cm too wide.
Marchildon claims that her hips, which measure 92cm, violated Elite's alleged "rule" that their models maintain a 90cm measurement or less. A booker reportedly told Marchildon she had "a nice face, [but] a fat arse," and that she "never had it in her to become a top model because she was unsuitable for catwalk work." Marchildon is demanding the remainder of her winnings.
Elite's response to the lawsuit confirmed that Marchildon's figure proved problematic. Elite's lawyer notes, "it was impossible for Elite to find [Marchildon] modelling jobs since she wasn't in the required shape." This is because, according to Elite's lawyer again, the agency books models for couture jobs where the clothing "is made in one size only: (très très) petite. This is not something modelling agencies can change."  On a conciliatory note, he added that the modeling industry is "not for everybody."
The agency also noted they never actually signed Marchildon — rather, she was signed with a smaller agency, which then placed her with Elite to increase her exposure. (Interestingly, this alone appears to illustrate a breach in Marchildon's contract as a winner of the show, though there's probably a lot of fine print involved there.) Marchildon's lawyers wrote to Top Model's demi-goddess Tyra Banks, asking for help. Sadly, their letter came back unanswered, and unopened even. That's because Tyra was probably busy getting romanced in Bali.